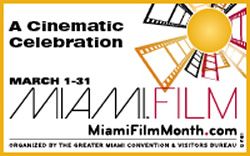 Second Annual Miami Film Month
March 1 – 31, 2013
Internationally Renowned for its Spectacular Film Festivals, Art Cinemas and Success as a Film Destination, Greater Miami and the Beaches Invites You to Celebrate its Second Annual Miami Film Month
From highly anticipated Hollywood box office blockbusters to international indies, Greater Miami and the Beaches continues to play a starring  role in films on the silver and small screens.  To celebrate, the Greater Miami Convention & Visitors Bureau (GMCVB) will host its second annual Miami Film Month, March 1 – 31, 2013.
Greater Miami and the Beaches is rolling out the red carpet for its residents and visitors as Miami Film Month offers March moviegoers significant discounts with ticket prices as low as $6 (up to 47 percent savings) at participating venues.  Consumers will want to keep their ticket stubs as the GMCVB is giving away four Grand Prize one-year memberships to participating art cinemas. To enter for a chance to win, consumers take pictures of three movie ticket stubs from different participating theaters and submit their photos via the Visit Miami Facebook page/tab.  In addition to the membership giveaways (one each week during the promotion), 20 runner-up winners will receive $25 gift cards.
For those who prefer to schmooze, there are festival parties to make an appearance at including the Artopia at the Coral Gables Museum on February 28, the Miami International Film Festival Pyrat Awards on March 9 at the Freedom Tower and the newly established FIU Media Arts Festival set to take place on March 26, 2013 at 420 Lincoln Road in Miami Beach.
"It's anything but quiet on the set here in Greater Miami and the Beaches. We have worked with more big Hollywood studios, art directors and independent film producers this year than ever before and the demand continues to grow," said William D. Talbert III, CDME, president and CEO of the GMCVB. "It's no wonder more productions and film festivals from around the globe are looking to bring their shoots and screening events here. Our sandy white beaches and stunning cityscape combined with our destination's accommodations and amenities make for an ideal location."
While March is officially Miami Film Month, the festivities happen year-round. Five new festivals have joined the credits this year making Miami and the Beaches home to 18 film festivals for residents and consumers to enjoy; the list of festivals participating in Miami Film Month follows.
·        American Black Film Festival
·        Borscht Film Festival
·        Brazilian Film Festival of Miami
·        CAJE Miami Jewish Film Festival
·        DocMiami International Film Festival
·        European Film Festival
·        FIU Media Arts Festival
·        France Cinema Floride
·        Italian Film Festival
·        Miami & the Beaches Environmental Film Festival
·        Miami Gay & Lesbian Film Festival
·        Miami International Film Festival
·        Miami Israel Film Festival
·        Miami Short Film Festival
·        Miami Wildlife Conservation Film Festival
·        Optic Nerve Film Festival
·        Sicilian Film Festival
·        Women's International Film Festival
Art Cinemas participating again this year include:
·        Bill Cosford Cinema
·        Coral Gables Cinema
·        Miami Beach Cinematheque
·        O Cinema  Wynwood
·        O Cinema Miami Shores
·        Tower Theater
For more information regarding Miami Film Month festivities and participants, please visit its dedicated website at www.MiamiFilmMonth.com. To enter the online contest, visit GMCVB's Facebook page – Visit Miami.
Miami Film Month is part of the Temptations programs developed by the GMCVB to allow all to enjoy the best that Miami and The Beaches  has to offer throughout the year at attractive prices. Miami Film Month is part of the successful playbook including Miami Spa Month, Miami Spice Restaurant Month, Miami Museum Month, Miami Attractions Month, Miami Romance Month, Shop Miami Month, Miami Golf Month and Miami Live Music Month.  For more information on the Temptations programs please visit www.MiamiTemptations.com .