Miami Light Project – Contemporary Performance Series Presents Rudi Goblen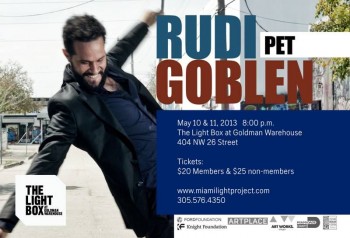 Friday, 05/10/2013, 08:00 pm –
The Light Box at Goldman Warehouse
404 NW 26 Street,
Miami, Florida 33127
Webpage Link
This May 10 & 11, 2013, you won't want to miss the premiere of the conclusion of Miami-based performer Rudi Goblen's theatrical trilogy, delving into themes of love, suicide and belonging.
Miami Light Project is proud to present the world premiere of PET, a new theater work written and choreographed by Miami-based actor/writer/choreographer, Rudi Goblen and directed by Michael Yawney.
PET is an interactive physical one man theatre piece set in a support group meeting for ex-lovers/serial monogamist built from an array of interviews and shared experiences of the broken-hearted. Drawing from a repository of human emotions, fears, hopes, dreams and instincts; while forging a blend of movement, speech and actions to tell its stories – PET deals with the complexities of relationships, love, and lack thereof.