Ayuda Illuminates Special Fashion for Special Kids
Thursday, 03/14/2013, 11:30 am – 01:30 pm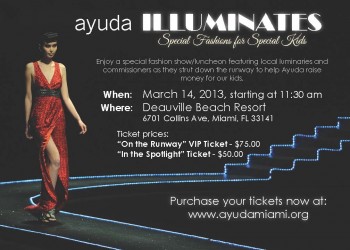 The Deauville Beach Resort
6710 Collins Avenue,
Miami Bech, Florida 33141
Webpage Link
. Once host to such celebrity guests as the Beatles, Frank Sinatra, Sammy Davis Junior and Dean Martin, on March 14, 2013, at 11:30am, the Deauville Beach Resort will host a different group of celebrities as local luminaries strut the runway at AYUDA Illuminates…Special Fashion for Special Kids.
Macy's will be staging the fashion show extravaganza, featuring Miami Beach's movers and shakers including Commissioners Jerry Libbin, Michael Gongora, Deede Weithorn and many others. This is a great way to network with the local luminaries. Music will be provided by DJ Jessimixx to highlight the fashions.
You will have the opportunity to bid on some fabulous auction items, including jewelry, gift certificates for local hot spots, and a host of other items, including massages, fitness classes and other services.