Marlins Challenge Fans to Trivia Night at the Clevelander in Marlins Park
Friday, 02/08/2013, 06:30 pm – 10:00 pm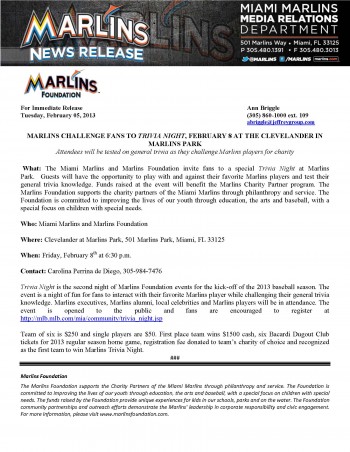 Clevelander at Marlins Park
501 Marlins Park,
Miami, Florida 33125
RSVP Link
The Miami Marlins and Marlins Foundation invite fans to a special Trivia Night at Marlins Park. Guests will have the opportunity to play with and against their favorite Marlins players and test their general trivia knowledge. Funds raised at the event will benefit the Marlins Charity Partner program. The Marlins Foundation supports the charity partners of the Miami Marlins through philanthropy and service. The
Foundation is committed to improving the lives of our youth through education, the arts and baseball, with a
special focus on children with special needs.
Trivia Night is the second night of Marlins Foundation events for the kick-off of the 2013 baseball season. The event is a night of fun for fans to interact with their favorite Marlins player while challenging their general trivia knowledge. Marlins executives, Marlins alumni, local celebrities and Marlins players will be in attendance. The event is opened to the public and fans are encouraged to register at http://mlb.mlb.com/mia/community/trivia_night.jsp
Team of six is $250 and single players are $50. First place team wins $1500 cash, six Bacardi Dugout Club
tickets for 2013 regular season home game, registration fee donated to team's charity of choice and recognized as the first team to win Marlins Trivia Night.