Virginia Key Grassroots Festival of Music and Dance
Saturday, 02/23/2013, 12:01 am – 11:55 pm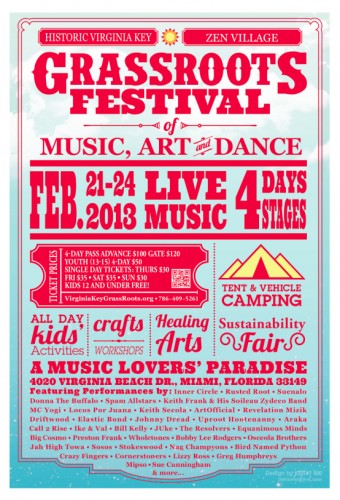 Historic Virginia Key Beach Park
4020 Virginia Beach Drive ,
Key Biscayne, Florida 33149
Webpage Link
The four day GrassRoots Festival event will feature: music on four stages, on-site camping, Sustainability Fair & Expo, Kids' Area, Dance Tent, World Foods Cafe, and Zen Village Area with Healing Arts, Yoga, movement workshops, massage, meditation and crafts.
Musical highlights include: Inner Circle, Rusted Root, MC Yogi, Suenalo,
Donna the Buffalo, Keith Frank & His Soileau Zydeco Band, Spam Allstars,
Locos Por Juana, Elastic Bond, ArtOfficial, Driftwood, Johnny Dread, Revelation
Mizik, Jose Conde, Keith Secola, Equanimous Minds, Osceola Brothers.
Local partners include: Virginia Key Beach Park Trust, Zen Village, Moksha Family
Art Collective, and Community Arts & Culture. These organizations are working in
cooperation with the GrassRoots Festival Organization to produce the 2nd annual Virginia
Key GrassRoots Festival.