Jazz in the Gardens with Maria Rivas
Saturday, 01/26/2013, 08:00 pm – 10:00 pm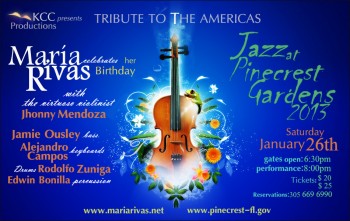 Pinecrest Gardens
11000 SW 57th Ave (Red Rd.),
Pinecrest, Florida 33156
Buy Tickets Link
KCC Productions presents "Jazz at Pinecrest Gardens," featuring jazz vocalist sensation, MARIA RIVAS, and her fabulous Quintet, performing her "Tribute to the Americas", Saturday, January 26, 2013 at 8 PM (gates open 6:30 PM) in the Banyan Bowl, 11000 Southwest 57th Avenue, in Pinecrest, Florida.  At the Concert, Maria will perform an unusual blend of lively and entertaining music from throughout North and South America, presented in her own unique style and incorporating the matchless and romantic sound of violin. Guests can arrive early and enjoy the truly beautiful and graceful natural surroundings at Pinecrest Gardens.  The Concert is outdoors and the audience can enjoy light fare at the Gardens Gallery and Courtyard. Tickets are $20-25 at http://www.pinecrest-fl.gov/index.aspx?page=440
Maria Rivas recently relocated to South Florida from her native Venezuela, where she is that country's best-renowned contemporary female vocalist, while being well-known and appreciated throughout Latin America and internationally. She has released 11 CDs containing an exceedingly diverse and entertaining repertoire, and her CDs are featured on iTunes and Amazon.
Maria's hit single "Manduco" took the number one position on the Venezuelan charts and stayed there for over 3 months, and in the top 10 for more than 3 years.  Ms. Rivas has won numerous awards in Venezuela and internationally for her highly original blend of music, as well as her strong pro-environment and humanitarian stance.
Ms. Rivas considers the appearance of her Band at this Special Birthday Concert to be a wonderful birthday gift to herself and to the audience, as the Band will include a mixture of incredible talents from the 3 Americas.  Performing alongside Maria will be:  The incomparable Jamie Ousley from Tennessee on acoustic bass, with his gift for understanding the Latin-American coda inside its tropical rhythms and swaying movements, always performed with his characteristic elegance.  
On drums, Rodolfo Zuniga, a highly talented Central-American drummer from Costa Rica, who like Jamie Ousley, is a music professor at Florida International University.  Mr. Zuniga has toured as a member of the prestigious Betty Carter Jazz Ahead Group and has performed with such artists as Sammy Figueroa, and Arturo Sandoval.  
On percussion will be the hyper-talented Edwin Bonilla, a versatile musician from Puerto Rico, who is one of his genre's best percussionists, songwriters and producers in the world, being invited to perform by artists like Gloria Estefan, Ricky Martin, Juan Luis Guerra, Celia Cruz and many more.  
On piano and keyboards, nominated for a Latin Grammy in 2011, will be Alejandro Campos, a musician, songwriter, and composer from Venezuela who performed on one of the most important Venezuelan records of Maria Rivas called "Mapale", and who has produced music for Univision, Telemundo, America TeVe, and others.  Among other recognitions, Campos won an ASCAP Award for the song "That's Life", performed by Olga Tanon, a musician with a 28 year musical career.  
And finally, as a very special guest, Maria Rivas will present the virtuoso violin soloist Jhonny Mendoza, also from Venezuela, where he is a founding member and director of Cuerdas Andinas, a famous band in Venezuela, for which Mendoza has produced the group's three albums containing the some of the most important music from the Andes mountain region.  For his sensitivity and talent, Jhonny Mendoza is considered one of most brilliant violinists in Venezuela.
The repertoire which Maria Rivas will be performing will provide spectacular entertainment for the audience.  With Maria's highly melodious voice and the magical sound of violin, she will begin our musical journey with the Argentinean energy of Astor Piazzolla and his fabulous Tangos, and also the classic Latin ballad, "Alfonsina y el Mar", then we will fly to the multi-colored expressions from Brazil including Maria's distinctive renditions in Portuguese of "O Bebado e a Equilibrista" and "Mais que Nada", then moving ahead to experience Maria's memorable sound from her native Venezuela featuring her elegant Latin Jazz ensemble and the irresistible power of her Caribbean rhythms and beats, then to Mexico with Maria's unparalleled and highly original version of Besame Mucho, and then to Maria's singular interpretations of classic American jazz and pop tunes from the Great American Songbook, alongside her original music which Maria composed herself.  Maria will link together these seemingly diverse musical genres, while electrifying participants with her melodious voice and dynamic presentation.
For more information on Maria Rivas, visit her website at  www.mariarivas.us  www.kccproductions.com