12 Nights: Sonic Roller Coaster
Saturday, 01/26/2013, 08:00 pm – 09:00 pm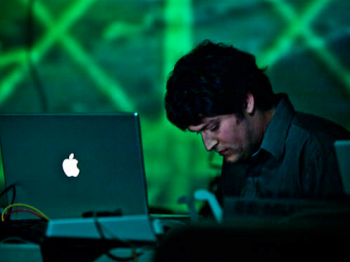 GAB Studio
105 NW 23rd Street,
Miami, Florida 33127
Webpage Link
12 Nights of Electronic Music and Art VI:
Sonic Roller Coaster
featuring Sam Pluta, live electronics and Jim Altieri, violin
Saturday, January 26, 2013 at 8PM
GAB Gallery, 105 Northwest 23rd Street Miami, FL 33127
http://12nights.org/Season6/Season6-1.html
http://www.facebook.com/events/528771533809591/
Contact: info@fetafoundation.org
Admissions: $7
Students with valid ID: free
Welcome to our first night of the season 6! Jim Altieri and Sam Pluta, a New York-based duo will present an evening of improvised electroacoustic music tonight. Altieri is a just intonation violin specialist and also excels in performing the instrument in unusual extended modes. Sam Pluta plays the laptop. For the most part, he will capture the violin sounds in real-time, distorting and mangling them tonight. Pluta will operate his own sound-processing software that enables techniques such as delays, filters, ring modulators and granular synthesizers. Get ready for a sonic roller coaster of swoops and swirls, peaks and troughs!
Join us on facebook:
http://www.facebook.com/pages/FETA-Foundation/346130482098322