Sex and the Animals
Thursday, 02/14/2013, 08:00 pm – 09:30 pm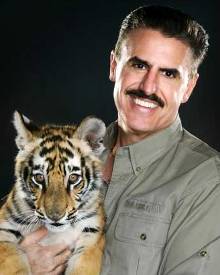 Zoo Miami
12400 SW 152 Street,
Miami, Florida 33177
Webpage Link
Enjoy Ron Magill's hysterical yet educational presentation about "love" in the animal kingdom on what better day than Valentine's Day at Zoo Miami's new amphiteater. Funds raised will support Destination Africa, a group of staff members who have visited Africa and raise money to send other staff members to Africa.
Tickets are $35.00 for non-members and $30.00 for members. Tickets can be purchased by calling the Zoological Society of Florida at 305-255-5551 The price includes a wine and cheese reception and a 2013 Zoo Miami Calendar for all attendees. Ron Magill's presentation will begin promptly at 8:00 p.m. and will conclude by 9:30 p.m.
Because of the new seating configuration of the amphitheater, ticket sales are strictly limited to 500. Attendees must be 18 years of age or older.