Primal Evolution
Saturday, 01/12/2013, 10:00 pm –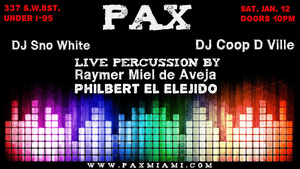 PAX
337 S.W. 8th Street,
Miami, Florida 33130
Webpage Link
Primal Evolution
Primal Evolution
PAX presents Primal Evolution
A discovery series of Live DJ's & Percussionists improvised live on stage.
Featured Dj's;
The legendary DJ Coop D Ville and DJ Sno White
Dj Snowhite; was voted BEST CLUB DJ 2003 by the Reader's Poll in the Miami Newtimes. Snowhite is both a Club Dj and a Turn-musician-tablist. She is a member of OUT OF THE ANONYMOUS an Experimental Trip Hop Improvisational band. Snowhite has built a strong following throughout Florida since 1993. In 1997 she established her brainchild "FAATLAND" one of the first Spoken Word-Underground Hip Hop-Live Fusion nights to hit South Beach Florida.
DJ COOPDVILLE; Born in Spanish harlem New York City,Coopdville was influenced by the birth of hip hop culture. As a five yr old growing up in Uptown N.Y.he witnessed the pioneers of graffiti,dj;s,and b-boyin such as Dondi,Kool Herc,and Crazy legs. Inspired by Red alert on the radio backspinning James Brown breaks,Coop was set to get turntables. He began his career 1984 rocking house parties and making mix tapes in Little Habana Miami.Fla. and has not stopped since from San Fran to Hawaii Cooper keeps spinning.
Percussionists:
Raymer Olalde and Philbert Armenteros
Masters at the beat.