MonteRosa
Thursday, 02/07/2013, 09:00 pm –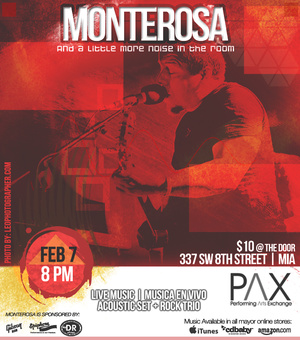 PAX
337 S.W. 8th Street,
Miami, Florida 33130
Webpage Link
MonteRosa "Vivo En Tu Amor" CD Release Party
MonteRosa �Vivo En Tu Amor� CD Release Party
MonteRosa returns with his third full length production titled "Vivo En Tu Amor", a fully charged Pop/Rock gem in which all tracks were written and produced by MonteRosa himself.
Following his first two acclaimed and successful albums (Monte*Rosa & 12 Historias En 3 Tonos) which generated hits that topped radio and video charts, placement in multiple internationally transmitted television shows ("Spain…On The Road Again" and Telemundo Networks' highly rated "La Reina Del Sur") and independent award winning motion pictures ("Entre Nos") "Vivo En Tu Amor" is chock full of songs that is destined to bring this Colombian born bilingual singer/songwriter a broader reach.
Vivo En Tu Amor brings the unique Pop/Alternative Rock sound mixed with Latin rhythms and powerful lyrics that symbolize MonteRosa. This production also includes three tracks in English (a not surprising follow-up since his debut album included a popular track in English) "Kitchen", "Long Way Home" and "Hate Me", each one a representation of the multi-genre appeal that MonteRosa brings no matter what language they are performed.
MonteRosa's music is about people, his experiences, his feelings and most importantly what life is all about. Lyrics that inspire; make you reflect and think, accompanied by music that will make the hairs on your back stand and get your butt off the chair, that is MonteRosa and this is Vivo En Tu Amor.
Please visit:http://www.monterosamusic.com/musica to listen to the promotional audio clips from "Vivo En Tu Amor" and his previous productions.