The Big Shift: How to From Where You Are to Where You Want to Be
Saturday, 01/19/2013, 09:30 am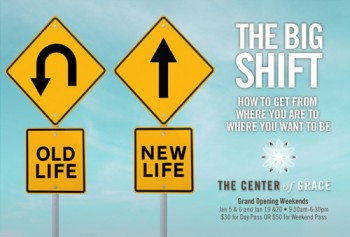 The Center of Grace
132 NE 1st Ave,
Hallandale, Florida 33009
Webpage Link
Start off the New Year with tools and techniques that will give you the clarity and direction to catapult your life to the next level. Join Jennifer Grace and her dream team of Wisdom Professors for empowering workshops that are designed to awaken and inspire you to step into a life you love!
Set in the warm and inviting atmosphere of The Center of Grace, Transformational Life School and Conscious Social Club, you will meet like minded people who are also interested in self mastery and personal empowerment.
Day/Weekend Passes all include a delicious Raw Foods Lunch, Gentle Movement Classes, Healing Sessions, and Transformative Workshops.