Amarcord Dinner Show + Rooftop Party
Thursday, 01/10/2013, 07:00 pm – 02:00 am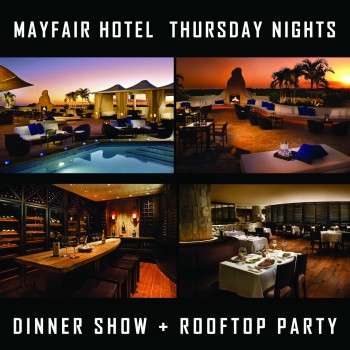 Mayfair Hotel & Spa
3000 Florida Avenue,
Miami, Florida 33133
Webpage Link
Megacity Events presents a new series of nightlife and entertainment; the Amarcord Dinner Show + Rooftop Party at the Mayfair Hotel & Spa in Miami's scenic Coconut Grove, FL.
Thursday, Jan. 10th 2013
Amarcord Dinner Show w/ Louis Amanti
7-11pm at Spartico inside Mayfair Hotel
Join us for an evening of sophistication and intimate dining at the Roman-style Trattoria, Spartico. Amarcord, originating from the Italian word "I remember", invites you to rekindle memories as Louis Amanti performs both classic and modern Jazz from Frank Sinatra to Michael Bublé and many others in between.
http://www.youtube.com/LouisAmanti [Music + Videos]
http://www.facebook.com/LouisAmantiMusic
Indulge in homemade-style pastas for only $10.99 and sip on signature Bellini's and Americano's for only $9.00 each.
Rooftop Party Under The Star w/ DJ Tinello
9pm to 2am at Mayfair Hotel Rooftop Bar
Following the Amarcord Dinner Show, you're invited to vibe and lounge poolside under the stars on the Mayfair Hotel Rooftop Bar with music by DJ Tinello.
https://soundcloud.com/martino-tino-muzeec [Mixes]
http://www.facebook.com/pages/DJ-TINELLO/111582635532990
Poolside Tables and Cabanas Available.
—
For reservations, email megacitygroup@gmail.com or call/text 786-277-3703.