Tap N Run 4k Beer Race
Saturday, 01/12/2013, 02:00 pm – 07:00 pm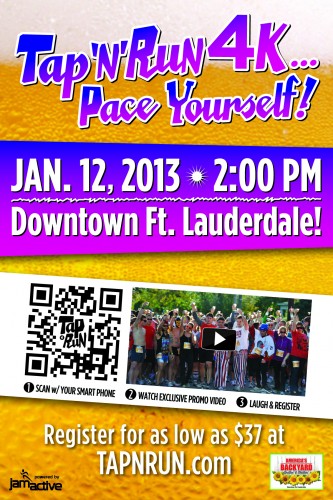 Downtown Ft. Lauderdale in front of America's Backyard
100 SW 3rd Avenue ,
Ft. Lauderdale, Florida 33312
Webpage Link
Tap 'N' Run 4k Beer Race combines a ridiculous running race – a 4k with 4 beer chug stations (chug stations = 3-4 oz. of beer per) along the race course, a full beer at the Finish Line, crazy costumes, great times with friends, and unbelievable athleticism. JAM Active has teamed up with some rad bars in Downtown Ft. Lauderdale to create this awesome day of racing and community enjoyment!
JamActive has partnered with the Little Warrior Project and has decided to donate ALL PROCEEDS made from beer sales. The Little Warrior Project is non-profit organization that takes a hands-on approach to provide military children with direct programs, services and events that cater to their unique emotional, social, and academic needs. The goal of the Little Warrior Project is to provide military children with the tools they need to improve morale, welfare and overall quality of life
In addition to being a part of an awesome and unique racing experience, all participants will receive a sweet Finisher's medal (that doubles as a bottle opener…no, really), the equivalent of over two beers and a Tap 'N' Run t-shirt to commemorate your amazing accomplishment. We also professionally time the race so you and your friends can laugh about how long it took to finish a mere 4k while sipping some suds!