Villa 221 Weekend Lineup
Friday – Saturday, 12/14/2012 – 12/15/2012, 10:00 pm – 04:00 am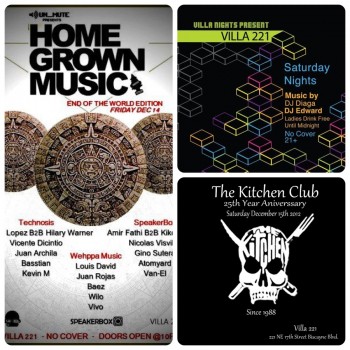 Villa 221
221 N.E. 17th street,
Miami, Florida 33137
Facebook Link
Friday- Un-Mute & Villa 221 present:
Miami's best monthly local showcase
No Cover all night/ $8 drink specials/ 3 rooms of sound
20+ DJ's throughout the night
Saturday- Villa 221/ Kitchen Club + Diaga and friends:
KITCHEN CLUB 25th anniversary W/
*Main Room: Classic Kitchen Club format with DJ16bit + Live Performance by The Intrigue : Aldo Luca a.k.a. DJ16bit & Blue Skies Synth-Pop Project.
*United D&B Room: Danny Bled
Disidente, Alphaxero, dj-Dalé
*Indie Dance/Live Performance Room: Modern Age with dj Chris Halo & DJ Essential
*Fetish Friendly EBM-Industrial Room: Draculas Daughter, Danny Bled+++ to be announced.
Master of ceremonies is The Notorious Nastie!!