Team Make -A-Wish Live Ultimate Run South Beach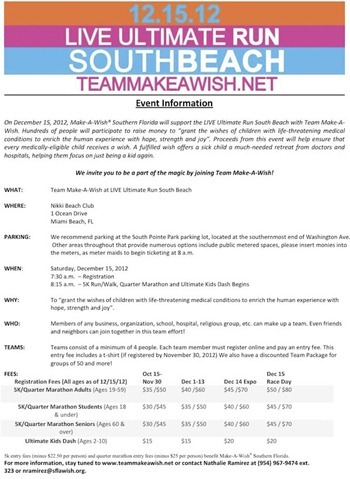 Saturday, December 15, 2012
Registration will begin at 7:30am
Nikki Beach
1 Ocean Drive
Miami Beach FL
For more information visit www.teammakeawish.net  or contact Nathalie Ramirez (954) 967-9474 ex. 323
Please support Team Make-A-Wish of the Live Ultimate Run on Ocean Drive.
 
Please get involved by visiting Team Make-A-Wish . A portion of the registration fee goes towards "granting wishes to the children with life-threatening medical conditions to enrich the human experience with hope, strength and joy." Be apart of the magic, by helping these children focus on being a kid again!
 
After, Shareef Malnik has extended the invitation to our dear friends for a get together at Nikki Beach.