The Healing of the Heart Through Art Workshop
Sunday, 12/09/2012, 10:30 am – 12:30 pm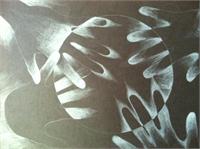 Rina Yoga in The Roads
1250 Coral Way,
Coral Gables, Florida 33145
Webpage Link
This workshop is designed to strengthen your will and mind so that you can distribute inner healing energies (prana) throughout your body.
The workshop will begin by warming up and stretching your physical body with conscious heart opening asanas/poses. We will emphasize breath and bringing prana into the body with each movement. Next we will slow down our movements with a few yummy restorative heart openers followed by a guided meditation and the main event.
Our main focus in the workshop will be the powerful mandala exercise where we will make a luminous drawing of our hands. The drawing will act as a simple biofeedback device- a visual mirror to our eyes and brain- by making the invisible energies visible and more "real" to our conscious mind. As you draw your consciousness, prana, physical body, and paper and pencil all will be linked in an alchemic healing process.
Healing alchemy is the magical transformation that occurs when the artist consciously focuses and directs "prana" through the body out of the hands and fingers and, along with his or her individual inspired soul-consciousness, into materials such as (in this case) pencil and paper.
We will close with a meditation and gazing upon our drawings, with the intention that you become aware of the healing energies present within the body.
Please bring a yoga mat, pillows, blankets, drums, musical instruments , or any stones or personal items that inspire you on a deep level!
Price: $35.00 (includes all materials)
RSVP: https://clients.mindbodyonline.com/ASP/home.asp?studioid=17886