Public Relations Manager
Wednesday, 12/05/2012, 08:00 pm – 10:00 pm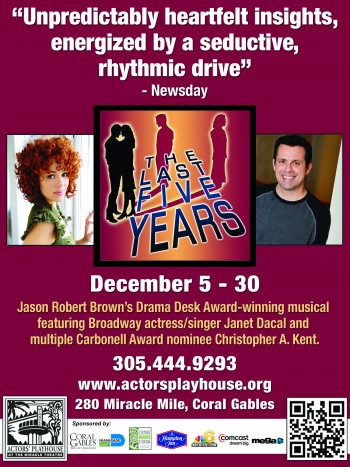 Actors' Playhouse at the Miracle Theatre
280 Miracle Mile,
Coral Gables, Florida 33134
Webpage Link
Featuring Broadway star Janet Dacal and Carbonell Award nominee Christopher A. Kent, The Last Five Years is a contemporary song-cycle musical that explores a five-year relationship between Jamie Wellerstein, a rising novelist, and Cathy Hiatt, a struggling actress. The story, told in the exuberant and heart-rending songs of award-winning composer Jason Robert Brown, chronicles the young couple's romance in a new and exciting way: her story starts at the end of their relationship; his begins on the day they met. Funny and uplifting, the show captures some of the most heartbreaking and universally felt moments of modern romance, and promises to be an artistic treat for South Florida audiences.
Playing December 5 – 30, 2012 at the Miracle Theatre.
Wednesday – Saturday at 8 p.m., Sunday at 2 p.m. A special weekday matinee is scheduled on Wednesday, December 12, 2012 at 2 p.m.
To purchase tickets, call 305-444-9293 or visit www.actorsplayhouse.org