Intrepid Gallery at Red Dot Fair Booth E108
Tuesday, 12/04/2012, 06:00 pm – 10:00 pm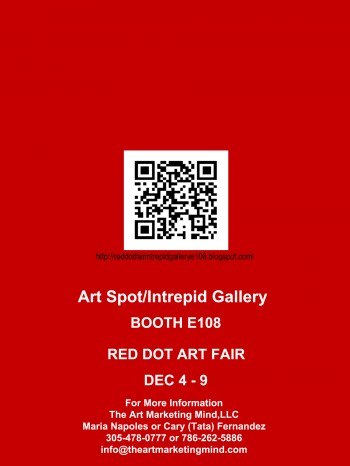 Red Dot Fair
Wynwood Art District ,
3011 NE 1st Avenue
Florida Miami
Webpage Link
Vero Beach-based Intrepid Gallery (Booth E108) will be presenting a unique segment within ArtSpot 2012 launching a collective exhibition organized by the Art Marketing Mind, LLC with Silvia Medina as Intrepid's Artistic Director and art consultant Maria Napoles and art marketing consultant Cary (Tata) Fernandez of the Art Marketing Mind.
A major highlight of the exhibition will be the presentation and performances by Venezuelan-born Miami-based Luis Valenzuela, a pioneer in Green Art whose eco-friendly avant garde fashion designs "ART TO WEAR" have been part of international high caliber shows such as the Mercedes Benz New York Fashion Week/ The Green Shows and also exhibiting at The Kennedy Center in Washington DC and at the Chelsea Art Museum in New York City.
Valenzuela is the founder of GreenArt USA, EarthDayMiami and EcoArtFashion©. He also launched the first EcoArtFashion Week™ in the world. SPECIAL LIVE PERFORMANCE AT 7: 00P.M BY LUIS VALENZUELA AT BOOTH E108
The two-year-old Intrepid Gallery will be showcasing new works by mid career artists as well as international and national emergent artists that have significantly contributed to the contemporary arts with an emphasis on current ideas and concepts that represent new trends.
Another highlight at Intrepid Gallery ArtSpot 2012, is the iPad installation/traveling exhibition entitled "Light Impressions" by 40 photographers presented and curated by Studio b. in a bright 94″ x 82″ wall of iPhoneography in which 520 images will captivate the viewers with stunning rotating looks.
The Intrepid Gallery booth will also exhibit works by NYC-based abstract painter Barbara Rosenzweig; hyperrealism by New Zealand artist Jenny Bennett; abstract work by Russian artist US-based Elena Bulotova; enhanced digital photography by Colombian-born Miami-based Alicia H. Torres; figurative work by Buenos Aires-based Gaby Grobo; figurative work by Cuban-born Miami-based Alejandro Leyva; abstract work by Hungarian-born California-based Clara Berta; figurative work by Venezuelan-born Miami-based Belina Sierraalta and abstract figurative work by Venezuelan-born Dora Abbo.
Also at Intrepid Gallery, will be the work by international photographers/artists: American-born Miami-based Sheila Elias; Venezuelan-born Caracas-based Maria Fernanda Lairet; New York artist Stephanie Bloom; French/Venezuelan Miami-based Jean Pierre Dodel; and Venezuelan-born Caracas-based Magaly Barnola Otaola.
Intrepid Gallery ArtSpot 2012 partners include Eclectic Network Inc; Leonardo Di Tomaso, Betty Alvarez, Doubletree Hilton Grand Hotel Biscayne Bay and Museum Vault.
by Jesus Rojas,WUM