Pet Fashion Celebrity's Green Carpet to benefit K-9 for Love
Thursday, 11/29/2012, 07:00 pm – 11:45 pm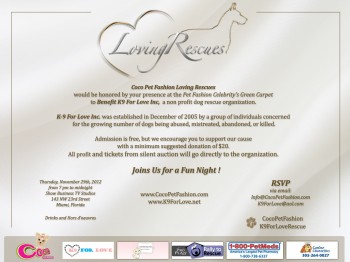 Show Business TV Studios (Garden)
143 NW 23rd St,
Miami, Florida 33127
Webpage Link
Miami, November 20th, 2012.- (I-magen Entertainment – www.i-magen.com).- COCO Pet Fashion is pleased to anounce its first fundrasing event called "Loving Rescues" and it's an non-profit event created by Coco Pet Fashion's owners, the actress and TV Host, Laura Ferretti and Elizabeth Hernandez. This event will take place every year to benefit dog rescues and shelters in the South Florida Region. This year the non-profit rescue organization chosen is K-9 for Love Inc., a 501(c)(3) founded in 2005, dedicated to the rescue of abandoned and neglected dogs in the the Miami-Dade County area.
There will be Green Fashion Carpet where Latin celebrities will be presenting the dogs available for adoption in front of the media, to promote their rescue and to benefit the organization and supporting their cause. Cocktails will also be offered and a silent auction will take place during this event.
This year we will be helping "K-9 For Love" so they can continue with their mission since they have more than 50 dogs waiting to be adopted.
Some of the celebrities that will attend are: Chiquinquira Delgado, Osvaldo Rios, David Chocarro, Roxana Garcia, Gabriel Porras, Sonia Smith, Lorena Rojas, Felicia Mercado, Maria Alejandra Requena, Nelson Bustamante, Katie Barberi, among others confirming in the next couple of days.
This year's event "Coco Pet Fashion Loving Rescue" will take place on Thursday November 29th. 2012, at 143 NW 23rd St – Miami, Fl 33127. We are projecting an attendance of 400 people, most of them animal lovers and activists, celebrities, media and general public. We will hold a silent auction and all profits will go directly to K-9 for Love Inc.
If you have any questions you can reach at 305-297-7725 or via email: info@CocoPetFashion.com or k9forlove@aol.com. We invite you to check our website www.CocoPetFashion.com and the Rescue Organization's website is www.k9forlove.org.
WHAT: Coco Pet Fashion Loving Rescues
WHEN: Jueves, 29 de Noviembre de 2012 – 7 pm
WHERE: 143 NW 23rd St – Miami, Fl 33127
NOTE: PLEASE RSVP
MEDIA: Must Register prior to the event