Artecho: Social Initiative Set During Art Basel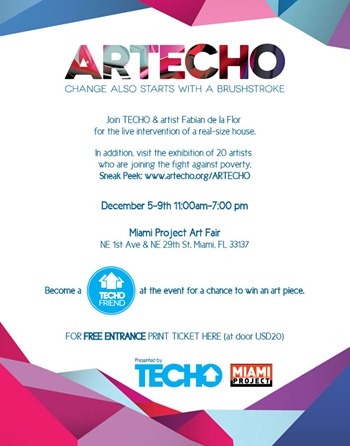 DEC. 4-9th
Miami Project Art Fair
NE 1st Ave. & 30th St.
Miami, FL 33137
http://www.techo.org/ARTECHO/
ARTECHO is an event organized by TECHO, a youth led non-profit organization that seeks to overcome poverty across Latin America, through the joint work of volunteers and families living in slums. ARTECHO is a social initiative set during Art Basel, that aims to raise awareness of the realities of poverty through Latin America. Each year, TECHO invites a select group of renowned artists from around the world to participate by having them intervene small-scale replicas (16" x 8") of the houses that are build by TECHO throughout Latin America. The artwork is then exhibited and auctioned at ARTECHO, in an effort to raise awareness and funds for the millions of people living in extreme poverty conditions. Last year's event raised USD227,000.00, enough to build 127 transitional houses.
Artists: Adriana Salazar, Pablo Tamayo, Jesse Florez, Glexis Novoa, Rogelio Polesello, Ana Alenso, Emilia Azcarate, Edwin Monsalve, Craig Kucia, Patrick Hamilton, Josefina Guilisasti, Guillermo Kuitca, Matias Duville, Pedro Tyler, Glenda León, Suwon Lee, Ernesto Neto, Amalia Pica
Solita Mishaan, Mariela Cisneros, Alberto Chehebar, Eduardo Padrón, Rosa de la Cruz, and Andres Oppenheimer are amongst this year's Host Committee. ARTECHO counts on the support of main sponsors, the John S. and James L. Knight Foundation; Santander Private Banking, and Drew Estate as supporting sponsors; Univision is the exclusive media partner for the event; and Diego Costa Peuser (Arte al Día/PINTA Art Show), art director for the event.
Exhibits from world-renowned artists including: Guillermo Kuitca, Pablo Tamayo, Ernesto Neto, Suwon Lee, Glenda León, Glexis Novoa, Ana Alenso, Patrick Hamilton, Rogelio Polesello, Amalia Pica, Pedro Tyler, Josefina Guilisasti, Matias Duville, Jesse Florez, Edwin Monsalve, Adriana Salazar, Emilia Azcarate, Nicolas Lobo, Craig Kucia, and a live art intervention of a full scale house (194 sq. ft.) by Peruvian artist Fabian de la Flor.
Nearly 173 million people live in conditions of extreme poverty in Latin America. Through the joint work of families living in extreme poverty with youth volunteers, TECHO seeks to overcome poverty in slums. TECHO is convinced that poverty can be permanently eradicated if society as a whole recognizes poverty as a priority and actively works towards overcoming it.
For more information visit www.techo.org/ARTECHO