The All-New Hialeah Fair
Friday, October 26TH, Gates open at 5 p.m.
Friday, October 26th – November 12th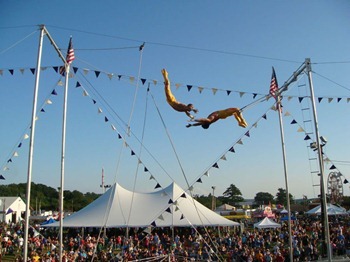 Hialeah Park Racetrack
2200 East 4th Avenue
Hialeah, FL 33010
www.hialeahfair.com  
Admission & Ticketing Information:
Fair Admission: $2.50 with 2-for-1 coupon available on event website. ($5.00 without a coupon)
**Children ages 2 and under are admitted free** Last ticket is sold one hour prior to closing. Amusement Rides
Individual Ride Tickets: Individual ride tickets may be purchased at the fair. Rides take multiple tickets.
Pay One Price Specials: In addition to individual ride tickets, pay one price bracelets are available for purchase at the fair that allow you to ride all the rides you want on any one day from open until close! POP bracelets are available for $25 at the fair or $20 in advance when purchasing online.
Save up to $5 per bracelet by purchasing pay one price ride bracelets online before the weekend for discount. Buy by Friday at 3:00 PM for use over the weekend!
South Florida Explodes with Sizzling Community Friendly Event
 
3 Big Weekends of thrilling rides, games, attractions and live music, Family fun & entertainment includes: Huge Petting Zoo, The Flying Pages Circus, Monkey's Riding Dog Show, Lion & Tiger Shows
Special appearance by Miami's "Magician of the Year" Lance Gifford's Magic and Illusion Show on October 26th through November 4th. Don't miss it!
 
The All New Hialeah Fair kicks-off on Friday, October 26th, a much anticipated celebration which promises to bring smiles and a memorable experience filled with fun, thrills and free entertainment for the entire family, with over 100 spectacular rides, games, attractions, dance and music on Fridays, Saturdays, Sundays and the last day being Monday, November 12th at the Hialeah Park Race Track.
 
This one of a kind family-friendly event will feature an array of spectacular quality state fair carnival rides for all ages and thrill seekers. Among the Hialeah Fair 2012 ride line-up will soon arrive the Giant Wheel, Frightmare Haunted House, Extreme, Carousel, Zipper, Himalaya, Umbrella Sports Cars, Pirate, Sizzler, Crazy Daisy Tea Cups, Gravitron and much more. Live show highlights include Miami's own "Magician of the Year"- Lance Gifford's Magic and Illusion Show to stun and fascinate all audiences. In addition there will be a huge Petting Zoo, Circus, The Flying Pages Circus, Monkey's Riding Dog Show, Lion & Tiger Shows.  Vendors will provide delectable Fair foods and non-alcoholic drinks.
 
WHY: Hialeah is the second largest city in South Florida with an extraordinarily diverse and rich history which exemplifies the multicultural spirit of the residents of Miami-Dade County and its surrounding areas. In lieu of Hispanic Heritage month and various relevant community awareness issues, The All-New Hialeah Fair is partnering with local schools, the City's first responders and national non-for-profit organizations to educate and promote fair goers on neighborhood safety, youth leadership, child obesity, domestic violence, breast
and lung cancer topics.
 
Fair Productions, Inc., has a decades-long track record of being a leading producer of county fair type projects at venues throughout the East Coast, expanding into Florida, with the Hialeah Fair being the first in the Sunshine State, brings its expertise and long-standing commitment in unifying communities through amusement and partnership.
Supporters: Hialeah Park Race Track, The City of Hialeah, Office of The Mayor of Hialeah and Hialeah Police Department; among others.