Welcome Back WALL Grand Re-Opening During Favela Beach
Tuesday, Oct. 23, 11pm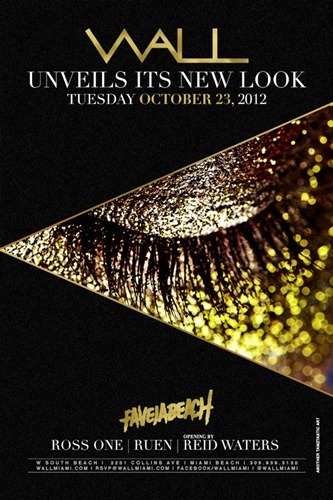 WALL
2201 Collins Avenue
Miami Beach, Fla., 33139
www.wallmiami.com
WALL Miami co-owners Karim Masri, Nicola Siervo, Navin Chatani and Jarred Grant are proud to announce the re-opening of their exclusive South Beach lounge on Tuesday, Oct. 23, 2012. Following a month of interior renovations, WALL will debut with an expanded floor plan, new DJ booth and VIP banquettes with smartphone charging stations, among other additions. Complementing the exciting additions to WALL is the launch of LUSH, a new poolside Thursday night party presented by entertainment impresario Michael Capponi, who originally hosted the iconic party in 1992.
 
The revamp comes on the heels of WALL's three-year anniversary. KNR Nightlife, a branch of KNR Restaurant Group, spearheaded the redesign along with Studio B, the force behind the modern décor of W Hotels, to construct a new look for WALL's 4,000-square-foot space within W South Beach.
 
WALL's new look includes a spacious open floor plan, with L-shaped couches framing a center dance floor. The VIP banquettes lining the walls are now equipped with tables featuring smartphone-charging stations. Audio enhancements are reflected in the 25 LED video screens and 16 intelligent light fixtures that allow for continuous video images to be projected onto walls and ceilings. WALL's signature glass and mirror wall, however, will remain untouched.
 
"The remodel is part of our continued pursuit to enhance the premier nightclub experience for locals and international jet setters alike," said Nicola Siervo, co-founder of KNR Restaurant Group, which is responsible for such sought-after dining establishments as Quattro Gastronomia Italiana (Miami Beach, Mexico City) and Sosta Pizzeria l Enoteca.
 
WALL's highly anticipated redesign will be heralded with a weeklong celebration, including the following events and entertainers:
Tuesday, Oct. 23
The Favela Beach party series, with vibrant Brazilian flair, presents resident DJ Ruen alongside DJs Reid Waters and Ross One, starting at 11 p.m.
 
Thursday, Oct. 25 (Poolside)
Michael Capponi presents the debut of LUSH Thursdays alongside Michael Marti, Angel, Matt Werner and Brett Weithorn, featuring music by innovative DJ Adam Lipson, starting at 10 p.m., poolside. The night will continue indoors as WALL presents DJs Knowledge and Affect spinning the best of electro-house and hip-hop.
 
Friday, Oct. 26
WALL presents S.K.A.M. artists Jessica Who and Mr. Mauricio, alongside Miami's own
DJ Los de la Vega, providing a fusion of energetic beats for the night, starting at 11 p.m.
 
Saturday, Oct. 27
WALL presents DJs Chicco Secci and Richard Grey to conclude the weeklong celebration with fuelled house and electro sounds, starting at 11 p.m.