The Immigrant To Open At Miami Beach Stage Door Theatre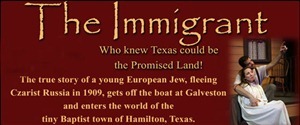 October 5 – October 28
Friday and Saturday @ 8 PM
Saturday and Sunday @ 2 PM
Miami Beach Stage Door Theatre at Byron Carlyle Theatre
500 71st Street
Miami Beach, FL 33141
www.miamibeachstage.org 
Ticket Price:    $38
Tickets Available at the Box Office or by Calling: 305.397.8977
The Immigrant is the heartwarming story of a Russian Jew who comes to America to fulfill his dreams, as he moves in with a Gentile family in small town Texas in 1909. This true story is based on stories culled from playwright Mark Harelik's grandmother's photo album.
The Cast:
Jeffrey Scott Leshansky (Haskell)
Michael Douglass (Milton)
Janet Weakly (Ima)
Greyssan Felipe (Leah)
 
Technical Credits:
Stage Manager:           Giordan Diaz
Director:                      Hugh Murphy
Costume Design:         Jerry Sturdefant
Lighting Design:          Anthony White
Set Design:                  Stage Door Scenic
Backstage:                  Liza Mascaro
Props:                         Nancy Clay
Miami Beach Stage Door Theatre:     
Now in its second year, the Miami Beach Stage Door is the resident theatre company at the historic Byron Carlyle Theatre. Having undergone a $1.7 million renovation, it is the gem of North Beach. An Impressive yet intimate performance theatre, it has been described as the perfect venue in which to enjoy a show!  Derelle Bunn and David Torres, co-founders of the Broward Stage Door Theatre in Coral Springs, bring 20 years of successful theatre production experience to Miami Beach.
 
DiSh – Dinner and a Show
The City of Miami Beach has launched "DiSh" the moniker for Dinner and a Show, a program in which participating restaurants near the Miami Beach Stage Door Theatre offer ticket holders a 15% discount on their lunch or dinner simply by presenting their tickets or ticket stubs.  Miami Beach residents also receive a 10% discount on tickets for Stage Door Theatre.  For the "dish" on participating restaurants, log on to www.mbculture.com/dish .