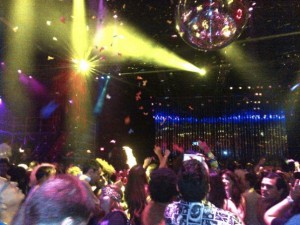 What the heck is a Donkey Show?
…it didn't make much sense to me either, but being the curious kat I am I clicked-away at the video. A disco club and  theater performance? Dream come true! Yes, I LOVE disco and I would probably wear disco clothes everyday if it was socially acceptable, but I used the Donkey Show as a perfectly good reason to dress head-to-toe disco!
The music was everything I expected; from the Village People to Barry White. The fairies (an awesome mix of Cirque de Soliel acts and male strippers) popped up in the crowd and kept the night exciting. With the drinks flowing from the bar and confetti falling from the sky, the Addrienne Arsht Center kept true to its word: the Donkey Show is a mix of a night club and theater!  This disco inferno came to an end in August, but Adrienne Arsht Center promises to keep Miami on its dancing shoe toes…stay tuned!