Rose Max Samba Party @ PAX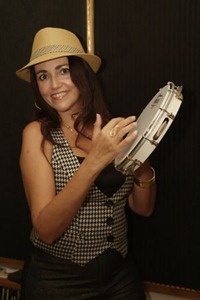 09/27/12, Doors: 8:00 pm
PAX MIAMI
337 SW 8th St
Miami Fl 33130
http://www.paxmiami.com
 
Born in Rio de Janeiro, Rose realized she had the gift of singing at a very early age.
Everyone from her mother's side was a musician. She is the great-grand daughter of the conductor and composer CUPERTINO DE MENEZES and grand daughter of the guitar player and composer MANUEL DE MENEZES. Cupertino, also a flutist, was a band member of a "choro" group led by Callado Junior and Chiquinha Gonzaga, two of the most prominent musicians from this era. Manuel was partner – in music, adventures and "Bohemia – of the most important Brazilian composer in the early 30's – Noel Rosa.
Rose moved to Miami in October of 1993, where she has been continuing to grow and develop musically, and by keeping a constant performance schedule, she has become highly recognized in the Brazilian, Hispanic and American communities. She won the BRAZILIAN PRESS AWARD for the "Best Female Brazilian Singer Residing and Performing in the USA" in 1997, 1998 and 2001.