Barbados Melting Pot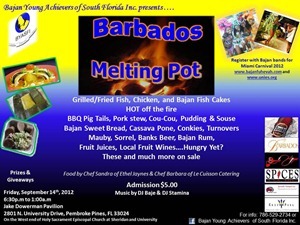 Friday, September 14, 2012, 6:30pm – 1:00am
Jake Dowerman Pavilion
2801 University Drive
Pembroke Pines FL 33024
Located at the back of Holy Sacrament Episcopal Church
A fun-filled cultural event for everyone, featuring "things Bajan" – lots of food, drinks and entertainment.
Music by DJ Baje & DJ Stamina. Also enjoy a grand show with stilt-walkers, limbo dancers and fire-eating.
See costumes for the Miami Carnival compliments of the two Bajan bands – "Bajan Fuh Evah" & "Unies Int'l"