THIS EVENT HAS BEEN POSTPONED DUE TO WEATHER.
Floatopia Miami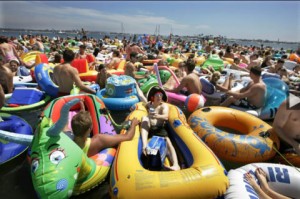 Saturday August 25, 2012, 10:00AM
South Pointe Park, Miami Beach
South Pointe Park
Facebook Page
FLOATOPIA is coming to Miami!
For those of you that don't know Floatopia is a social event that has taken place in Santa Barbara, Cali since 2004. The title "Floatopia" describes the main activity the event is known for—floating on rafts and other home-made or store bought floating devices along the coast and partying on the beach. Since 2004, Floatopias have sprung up all over the states, everywhere except Miami!
On August 25, we are bringing this floating party to Miami.
No bouncers, no guest lists, no cover charge, no promoters, just good ol' fashioned fun!
Bring your float, raft, inner-tube, rubber tire or anything that floats and join us!