Electric Piquete Return to Jada Coles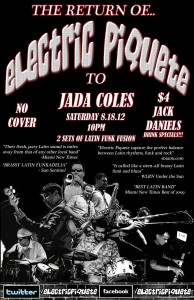 08/18/12, 10 p.m.
Jada Coles
2224 Coral Way
Miami, FL 33145
www.jadacoles.com
Local artists Electric Piquete will return to the Miami music venue Jada Coles on Saturday, August 18, 2012, playing two sets of Latin jazz / fusion beginning at 10 p.m. Located at 2224 Coral Way, the establishment's music schedule is now being managed by local music and entertainment champion / impresario Isabel "Kiki" Aguero, the founder and former owner of the now defunct Transit Lounge.
"Bringing Electric Piquete back to Jada Coles represents our commitment to continuing to provide our customers the best in local entertainment," says Aguero. "With the support of our regulars, plus the patronage of people who maybe have never visited our club, we can only hope to further improve upon our offerings."
"We appreciate the opportunity to return to one of our favorite live music venues," says drummer / founder Ed Rosado. "The band is excited to be working with Kiki and look forward to a special night of music, friends and good times."
The night will also feature a special guest appearance by singer/songwriter Joel Nuñez on guitar and vocals. Electric Piquete are self-described Latin funk fusionistas, perform regularly around South Florida and released their self-titled seven-song debut on CD and digitally in 2011.
For more information, call 305.456.9242, log on to www.jadacoles.com, like them on www.facebook.com/JadaColes or follow them on www.twitter.com/JadaColes.
ABOUT JADA COLES
Since 2009, this self-billed neighborhood bar nestled between the Brickell area and Coral Gables has provided drinks at great prices. There is never a cover and patrons can shoot pool, imbibe or just mingle in a casual, musically oriented atmosphere. Outdoor seating ample street and lot parking is available. Hours of operation are Monday – Friday, 4 p.m. – 3 a.m. and Saturday – Sunday, 8 p.m. to 3 a.m. Happy hour specials and a food menu are available.
ABOUT ELECTRIC PIQUETE
The band has been together for more than four years performing at bars, clubs, private parties and music festivals throughout Miami-Dade, Broward and Monroe counties. Their sound can best be described as an all-instrumental mixture of rock, Latin, funk and jazz.
Named both "Best Latin Band" by the Miami New Times and a "Band of the Hour" in 2009 by Miami.com, Lexus thought enough of their unique sound to license their music for use in a promotional video. The Miami Herald featured one of their songs in a special Bay of Pigs 50th Anniversary report.
For more information, visit www.facebook.com/ElectricPiquete and http://itunes.apple.com/us/artist/electric-piquete/id423565796