Emporio dei Giovani Celebrates Fashion's Night Out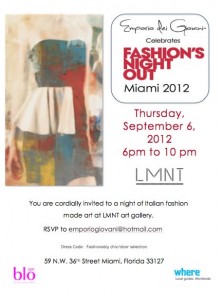 September 6, 2012, 6pm to 10 pm
LMNT
59 NW 36th ST
Miami, Florida 33127
www.emporiogiovani.com
The event is free to the public.
Valet parking is available for $5.
Emporio dei Giovani, a luxury brand bringing designs from Italy, sets the artistic trend in Miami celebrating a Fashion's Night Out event at LMNT gallery. The best showpieces of Emporio dei Giovani's autumn collection from awarded emerging designers, spanning the peninsula from Lake Garda to Sicily, will be presented at the event in an artistic gallery installation commencing at the Fashion's Night Out celebration and extending for three weeks. Performance art models will also expose the designs in an unprecedented manner as living art.
Fashion's Night Out is a celebration of fashion, a global initiative created by Anna Wintour, Editor-In-Chief of Vogue, in conjunction with the Council of Fashion Designers of America, NYC & Company, and the City of New York. It was created in 2009 restoring consumer confidence in a time of recession.
Emporio dei Giovani is a high-end brand that brings the best of young emerging fashion design from Italy to the United States. It adheres to the "Made In Italy" label of elegance and quality with meticulously selected designs. Each piece is custom made for the client by the awarded designer using luxurious Italian textiles.