Aqua Art Miami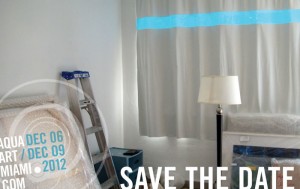 December 6 – 9
1530 Collins Avenue
Miami Beach, Florida 33139
aquaartmiami.com
VIP Preview Opening: Wednesday, December 5, 2012; 7:30 – 11pm
Public Hours:
Thursday, December 6: noon – 9pm
Friday, December 7: 11am – 9pm
Saturday, December 8: 11am – 9pm
Sunday, December 9: 11am – 4pm
Featured Programs:
• Livers: REMIX — a performance by Atalanta-based artist Lauri Stallings and her performance art troupe Glo. Wednesday, December 5, 2012 (during Aqua's VIP Preview Opening) and Friday, December 7, 2012
• Museum Day, Thursday, December 6, 2012: noon – 9:00pm (free entry to the fair for all art museum members worldwide — just show your museum membership card)
General Admission: $10 (good for re-entry for the duration of the fair)
Free Admission with Aqua VIP Card, Art Basel VIP Card or Art Basel Press Pass
Free Catalog with Admission
Aqua Art Miami is proud to announce "Destination Super Eight" – its 8th consecutive installment in Miami Beach this December. Over the years, the fair has been recognized for presenting vibrant and noteworthy international art programs with a particular interest in supporting young dealers and galleries with strong emerging and early-mid career artists. With innovative special programming, which features performance art, and the collective exchange of ideas by 45 exhibiting galleries from North and South America, as well as Japan, Aqua12 will surely pack yet another powerful punch during Art Basel Week.
Aqua's curatorial commitment is complemented by the unique art fair setting of a classic South Beach hotel with spacious exhibition rooms that open onto a breezy, intimate courtyard. The surroundings have become a favorite gathering spot not only for relaxation during the busy Art Basel Week, but also as a place to exchange and disseminate new contemporary art ideas. And with its close proximity to the main Art Basel fair, Aqua Art Miami has consistently been ranked among the top satellite art events by collectors, artists, curators, critics and the art loving public alike.
Throughout its tenure, Aqua Art Miami has been a great supporter of not-for-profit art organizations. With the success of its inaugural Museum Day in 2011, Aqua12 is expanding the second installment of the event to include not only local art institutions, but all art museums worldwide. On Thursday, December 6th, from noon – 9pm, in an effort to promote membership sign-ups and public support for the arts, the fair will grant free entry to all art museum membership card holders for the day. Aqua12 would like to invite all not-for-profit art organizations, within the US and abroad, to participate and take this cross-organizational collaborative opportunity to drive membership sign-ups and renewals, as well as to promote even more support for the arts in their own communities.
This year, visitors to Aqua12 will also be able to experience a uniquely comprehensive arts programming, at the core of which is the work of Atlanta-based artist Lauri Stallings and her performance art troupe Glo. Livers: REMIX is a 4-hour continuous work that conducts an entire precarious world between the performers and the city of Miami Beach. It begins at Aqua as a physical installation of choreographed gestures in a state of being together, and continues in migratory form along the pedestrian arteries of Collins Avenue, for a highly physical contemporary performance in a public space, sculpted as an "arena of exchange." Lauri Stallings' physical language, influenced by the philosophies of Ohad Naharin's "gaga" system, Nicolas Bourriaud's relational aesthetics and situational experiments, enervates and explores the spontaneous collaborations that arise when public members interact with performers to participate in the realization of this piece, which will be performed in the evenings of Wednesday, December 5th (Aqua's VIP Preview Opening) and Friday, December 7th, 2012.
Exhibitors
Alida Anderson Art Projects Washington Dc > Artslant Los Angeles > Autobody/Jacqueline Cooper Fine Art Oakland > Awol Gallery Toronto > Blunt Toronto > C-Arte / Solange Guez + Arte Contemporaneo Buenosaires > Circa Gallery Minneapolis > Eileen Braziel& New Mexico Arts Santafe > Eleanor Harwood Gallery San Francisco > Ernest G. Welch Schoolof Art & Design Atlanta > Froelick Gallery Portland > Galerie Sas Montreal > George Lawson Gallery Los Angeles > Get This! Gallery Atlanta > Ghostprint Gallery Richmond > J. Fergeson Gallery Farmville > Lonsdale Gallery Toronto > Lyons Wier Gallery Newyork > Mayer Fine Art Norfolk > Morton Fine Art (MFa) Washington Dc > Pele Prints St. Louis > Projects Gallery Philadelphia > Prole Drift Seattle > Rice Polak Gallery Provincetown > Robert Henry Contemporary Brooklyn > Saltworks Atlanta > Seager Gray Gallery Mill Valley > Soil Artist Run Gallery Seattle > Spiralis Ventures Basking Ridge > Susan Eley Fine Art Newyork > Systema Gallery Osaka > The Tappan Collective Losangeles > Taylor De Cordoba Losangeles > Thomas Robertello Gallery Chicago > Toomey Tourell San Francisco > Valerie Goodman Gallery Newyork > What It Is Oak Park > Whitespace Gallery Atlanta > William Baczek Fine Arts Northampton > Zia Gallery Chicago