Roseanna Vitro to perform in Coral Gables Concert Series
Thursday, August 2, 8pm – Concert
Friday, Aug. 3, 10am to noon – Master Class
Coral Gables Congregational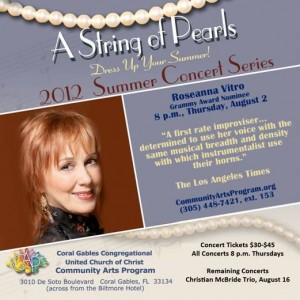 United Church of Christ
3010 De Soto Blvd.
Coral Gables, FL 33134
Concert Tickets and Master Class Registration at: CommunityArtsProgram.org or(305) 448-7421, ext. 153
Coral Gables Congregational United Church of Christ Community Arts Program 2012 Summer Concert Series 27th Season Presents 2011 Grammy-Award Nominee Roseanna Vitro
Roseanna Vitro is a reigning member of the jazz community. She has toured the world as an esteemed performer, clinician, recording artist, vocal instructor and ambassador. Her collaborations, covering a wide range of music and stylistic directions, have been cited and celebrated far and wide.
Roseanna is a soulful communicator, showcasing a thirst for swinging hard and possessing an ear for melodic invention. Her strengths include rhythmic acuity and free-spirited spontaneity, often heard in her improvisations, using both scat syllables and lyrics.
Ms. Vitro's signature energy and grace can be heard on a host of recordings. Notable among them is her breakout recording on Telarc (Passion Dance), which featured Elvin Jones, Christian McBride and longtime musical partner, Kenny Werner, and compelling tributes to Ray Charles (Catchin' Some Rays), Bill Evans (Conviction), and Brazil (Tropical Postcards). The Delirium Blues Project: Serve or Suffer, on Half Note Records (2008), is a live, blues-based recording of jazz and pop repertoire featuring Kenny Werner's arrangements.
Having served as an official Jazz Ambassador, sponsored in 2009 by Jazz at Lincoln Center and the U.S. State Department, in 2004 by the Kennedy Center for the Performing Arts and the U.S. State Department, Roseanna has presented concerts and workshops around the world. In 2011, Roseanna joined the Motéma Music label and released The Music of Randy Newman, which earned a Grammy nomination in the vocal jazz category.
Roseanna Vitro displays a heart and a soul rare by any standards. She is a consummate artist whose professional outreach improves us all. Joined by Mark Soskin (piano), Sara Caswell (violin), Dean Johnson (bass) and Tim Horner (drums), Ms. Vitro brings a Community Arts Program 2012 Summer Concert Series evening full of artful jazz singing, brimming with heart and soul!