THIS EVENT HAS BEEN POSTPONED
Brown Suga Events Presents The Legend Of The Scarlet Sash Masquerade Ball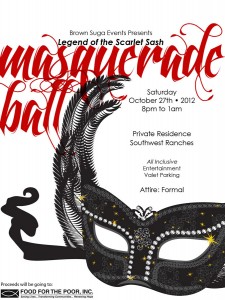 NEW DATE: Saturday, October 27th
Location: Undisclosed
Purchase Tickets Online
Brown Suga Events Presents The Legend Of The Scarlet Sash Masquerade Ball, An Opulent Evening Of Seductive Music, Dining, And Games Of Chance. Proceeds From The Ball To Benefit Water Pump And Well-Building Efforts In Haiti By Food For The Poor, America's Largest International Relief Organization
On October 27th, an elegant hideaway will be magically transformed into a secret meeting place for some of the city's most dashing and entrancing residents. Here, in this twilight playground, they will feast and fete, all while conspiring to help lives oceans away ravaged by natural disaster and the harshest poverty.
According to legend, the Order of the Scarlet Sash was a secret society formed in Louisiana in the early 1800s. Among its ranks, the order boasted some of the wealthiest and most talented citizens the young country had yet seen. They would meet only once a year at a hidden river estate constructed solely for their evening of extravagant wine, song and gambling. Their oath? And with this sash, I stake my claim
To guarded gold, and flights of fame
The key and lock, one and the same
To give as I am given
No longer secret but no less selective, the order continues its grandiose affair further south with an evening to delight the senses. The masquerade ball, in addition to its bewitching, disguised guests, will feature delectable fare by acclaimed Caribbean culinarian Ch ef Paul, as well as live music, cabaret performers and a casino courtyard.
Many of the proceeds from the event will be donated to Food For The Poor. Unlike many charity and relief organizations, 96% of all donations received by Food For The Poor go directly to on-the-ground efforts, such as the rural community of Grand Boulage in Haiti, where local children have to make a treacherous daily climb up steep, rocky pathways with heavy buckets to fetch water fr om a tiny stream.
Through Food For The Poor's initiatives, this perilous hike will become a thing of the past, thanks to a new water facility that will pump this water to four villages and 3,000 people.
In the secretive tradition of the Order, the location of this masquerade ball will be teased and ultima tely revealed on Tuesday, September 25th. Tickets on sale at www.brownsugaevents.com. As always, it promises to be legendary.
For those sadly unable to attend, donations can be made to the event's collection fund by mailing a check to Food For The Poor at the address below. Be sure to include the source code 86124 on your check.
Food For The Poor
6401 Lyons Road
Coconut Creek, FL 33073
Source Code: 86124