Music at MOCA & Roofless Records Presents Radio Test No 1, a theatrical sound performance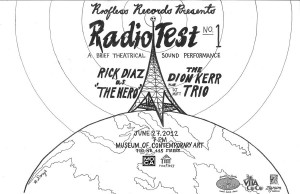 Wednesday, June 27, 7 pm
Museum of Contemporary Art, North Miami
770 NE 125th Street
North Miami, FL 33161
www.mocanomi.org
Music At Moca To Feature Roofless Records
Evening of special performances featuring DJ sets, live music and original sound performance
Music at MOCA will present an evening with Roofless Records on Wednesday, June 27 from 7 to 9 pm, featuring RadioTest No. 1, a theatrical sound performance by Rick Diaz and The Dion Kerr Trio jazz ensemble with DJ sets by Matt Preira . The performance, conceived by Roofless Records, incorporates elements of dance, interaction and spectacle. Established in 2007 by two Miami natives attending New College of Florida in Sarasota, Roofless Records is a Miami-based independent record label, producer and publisher that focuses primarily on experimental music by Florida artists. It is considered part of rich tradition of the noise rock scene that got its start in Miami in the early 1990s.
This event will take place at the Museum of Contemporary Art, 770 NE 125th Street, North Miami. Admission is free for MOCA members and North Miami residents; $5 general admission and $3 for students with ID. To RSVP, please visit www.mocanomi.org or call 305 893 6211.
Music at MOCA is the Museum of Contemporary Art's performance series produced in conjunction with leading cultural organizations and emerging contemporary musicians.
Complimentary cocktails provided by Zingum Tequila and Holy Mackerel Beer. Beverages provided by Vita Coco.
Exhibitions and programs at MOCA are made possible through grants from the City of North Miami, the Florida Arts Council, the Department of State,, the Miami-Dade County Department of Cultural Affairs, Cultural Affairs Council, the Mayor and Miami-Dade Board of County Commissioners. The Museum of Contemporary Art is accredited by the American Association of Museums