Kiehl's Liferide for amfAR with Pop-Up Urban Picnic on Lincoln Road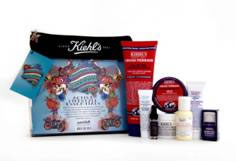 Friday, July 13th, 11 a.m. to 1 p.m.
Kiehl's
832 Lincoln Road
Miami Beach, FL 33139
Celebrity Motorcycling Philanthropists Join Forces with Kiehl's to Raise $115,000 to help find a Cure For AIDS
In celebration of National HIV Awareness month in July, Kiehl's Since 1851 is hosting their third annual Kiehl's LifeRide for amfAR, a nine-day charity motorcycle ride that launches with a celebrity-hosted, pop-up urban picnic at the Kiehl's store on Lincoln Road in Miami Beach. The event is free and open to the public.
Inspired by Kiehl's history with motorcycles, a spirit of adventure, and philanthropic heritage, the ride will be led by Chris Salgardo, President, Kiehl's USA and Kevin Robert Frost, amfAR CEO with celebrities John Corbett (Sex and the City), Tyson Beckford (model), Tricia Helfer (Battlestar Galactica), Jason Lee (Alvin and the Chipmunks, My Name is Earl) Katee Sackhoff (24, Battlestar Galactica), Teddy Sears (American Horror Story), Christopher Redman (88 Minutes), Marguerite Moreau (Wet Hot American Summer, Queen of the Damned), Timothy White (photographer), Paul Cox (artist), Grant Reynolds (Mansfield Path), Conrad Leach (artist) and more.
After a roaring entrance from these 20+ motorcycle enthusiasts, guests can look forward to enjoying a complimentary picnic lunch catered by celebrity chef and Fox's Hell's Kitchen contestant Robyn Almodovar on a pop-up lawn outside the store. Guests will have the opportunity to meet and greet the celebrity riders, pose for souvenirs in the custom Capture Pod™ photo booth and get "ink'd" in the temporary tattoo parlor while enjoying music and other entertainment. There will also be a celebrity check presentation to amfAR and in the spirit of giving; Kiehl's will offer 15% off all purchases.
This is the first time the city of Miami Beach has been included in Kiehl's LifeRide for amfAR. Kiehl's will make donations at each of the eight stops along the way – totaling $90,000.
The ride culminates in Washington D.C. on July 21st at amfAR & GBCHealth's Together to End AIDS Gala which takes place the evening before the International AIDS Conference commences, marking its first time on US soil in 22 years.
For every customer that visits Kiehl's free-standing stores from July 13 – July 21, Kiehl's will donate $5 to amfAR, up to the $90,000 total donation.
In celebration of LifeRide, Kiehl's will introduce a Limited Edition Active Lifestyle Essentials Kit, an array of signature products to help active customers refuel from head to toe, with 100% of Kiehl's net profits from the sale of this product, up to $25,000, to benefit amfAR.
The Limited Edition Kit includes Kiehl's new Eucalyptus Lip Relief (available only in this kit), full-size bottles of Cross-Terrain All-In-One Refueling Wash, Ultra Facial Cream, Cross-Terrain UV Skin Protector, Facial Fuel Eye De-Puffer, and deluxe samples of Creme de Corps, Ultimate Strength Hand Salve, and Midnight Recovery Concentrate. It features a specially-designed tattoo-inspired motif for the ride and will retail for $74.00 ($98.50 value) at Kiehl's stores nationwide.
HIV/AIDS awareness has long been at the forefront of Kiehl's philanthropic efforts, and through partnerships with organizations like amfAR, as well as the Magic Johnson AIDS Foundation, and YouthAIDS, Kiehl's has proudly donated more than $2,000,000 for the cause.