Be. Wines and Hair Trends at Blo Midtown
Wednesday, June 27th, 7pm to 10pm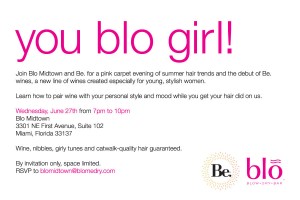 Blo Midtown
3301 NE First Avenue, Suite 102
Miami, FL 33137
RSVP: blomidtown@blomedry.com, space limited
Spread the Blo and tweet us at: @bloheartsyou / @themanemuchacha
Calling all hair addicts to ramp-up and vamp-up their coif for a pink carpet evening of summer hair trends and the debut of Be. wines, a new line of wines created especially for young, fashion forward women. On Wednesday, June 27, learn how to pair wine with your personal style and mood while you get your hair did on us.
You're invited to Blo Midtown for a night of wine & style to check out Be., the new line of stylish, playful wines created especially for Millennial women. Sample Be. wines: Bright, Fresh, Flirty and Radiant, while the experts at Blo get you coifed and calibrated to insanely chic. Be. was created to make wine more approachable – throw out the traditional rules and pair wine with your mood and signature style. Whatever you have planned, cancel it! Be. wine samples, appies and complimentary dry styles included.
Be. wine was created for Millennial women, by Millennial women, and was designed to break all the rules when it comes to wine. The line was developed to be stylish, approachable and fun, and encourage this emerging group of wine drinkers to explore and match wine with their mood, occasion and personal style. Go to bewinery.com for more details.
you're not cheating on your hairdresser. Blo is North America's Original Blow Dry Bar, since 2007. Scissors are verboten. Dye, ditto. No cuts, no colour: Just WASH BLOW GO. Clients choose from 7 styles featured in the Blo Hair Menu, from the sexy razor-straight "Executive Sweet" to the rocker-chic inspired "Sex, Hugs and Rock & Roll". Go to blomedry.com for the skinny. Just blo me.