Jacuzzi Boys at Camp Ricochet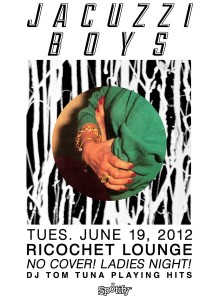 Tuesday, June 19, 2012, 9:00 pm
Ricochet Bar and Lounge
3250 Buena Vista Blvd
Miami, FL 33127
www.ricochetlounge.com
Jacuzzi Boys at Camp Ricochet
Cover: No Cover
Jacuzzi Boys Live Free Show
Dj Tom Tuna Plays The Hits
Ladies Drink Free 10pm1am
Trivia Hosted By Gui Jarochy 9pm11pm
Free Pizza & Jello Shots Will Be Served
Prizes Like Bottles & More Free Dranks!
Bonfires, Smores! friendship bracelets, JellO (shots), relay races, and cheesy camp songs, making out in the woods, Spin The Bottle, Twister, dodgeball, ghost stories, and now apparently a bunch of adults acting like children and staying out late on a weeknight to drink like school's out for summer, forever!
Drink Free From 10pm-1am
PBR + Shot of Gentleman Jack = $6
The $3 PBR!
$99 bottles of Cuervo Tradicional
$99 bottles of Ron Zacapa
JellO Shots provided with love by Nicole Doran
Drink free IF you dress up in a camp related costume or want to leas a round of drunken singalongs
Just Announced! Camp Counselor Justin Long aka Cap N Ron will be Presiding over the Beer Pong contest for which the winner will get Nothing except inebriated. Hoorah!