Ira Levin's Deathtrap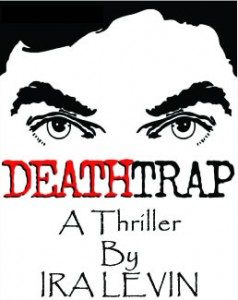 Friday, June 15 and runs through Sunday, July 1.
Fridays and Saturdays at 8 PM; Sunday matinee at 2 PM.
Miami Beach Stage Door at the Byron Carlyle
500 71st Street
Miami Beach
All performances are $38. Tickets are available at the Box Office or by calling (305) 397-8977. www.miamibeachstage.org
The trap is set . . . for a wickedly funny "Who will do it?"
Broadway's longest running mystery, Deathtrap, will open at the Miami Beach Stage Door Theatre on Friday, June 15, with weekend runs through Sunday, July 1.
Written by Ira Levin, Deathtrap is a classic, pulse-pounding thriller with devilishly wicked characters and multiple twists. The plot thickens as a once famed playwright, now living on his laurels, is sent a more-than-promising manuscript from an aspiring playwright. His dilemma: Can he get the young author to collaborate with him. If not – is murder an option? Of course it is!
Clayton Phillips makes his directorial debut at the Miami Beach Stage Door Theatre, leading a cast of accomplished actors in what promises to be a riveting production. Currently the Production Manager for Maltz Jupiter Theatre, Clayton has also directed local Florida productions of Music Man, Hairspray and Chicago for Lake Worth Playhouse and The Outgoing Tide for Arts Garage in Delray Beach. He is the recipient of the New Hampshire Theatre Award for Best Director for his production of John Pielmeier's Slow Dance With A Hot Pick-Up and was Harold Prince's assistant for the Broadway and touring productions of Kiss of the Spider Woman, Candide and Parade.
Among Clayton's direction credits are productions of Kiss of the Spider Woman in Tokyo and Buenos Aires, where it won the national award for Best Musical and Best Direction of a Musical; national tours of Oliver and Show Boat; the world premiere of Empire, the Musical in Los Angeles, where it won the Ovation award; premier productions of Gaugin in Chicago, Postcards on Parade and Out of the Sandbox and John Pielmeier's The Classics Professor in New York.
The cast of Deathtrap consists of veteran actors Clay Cartland (Clifford), Glen Lawrence (Porter), Kevin Reilley (Sidney), Elizabeth Sackett (Myra) and Paula Sackett (Helga).
Opened in 2011, the Miami Beach Stage Door Theatre is operated by Derelle Bunn and David Torres, co-founders of the Broward Stage Door Theatre, their award-winning flagship theater in Coral Springs.
DiSh – Dinner and a Show
The City of Miami Beach has launched "DiSh" the moniker for Dinner and a Show, a program in which participating restaurants near the Miami Beach Stage Door Theatre offer ticket holders a 15% discount on their lunch or dinner simply by presenting their tickets or ticket stubs. Miami Beach residents also receive a 10% discount on tickets for Stage Door Theatre. For the "dish" on participating restaurants, log on to www.mbculture.com/dish.