PALO! Cuban Pig Out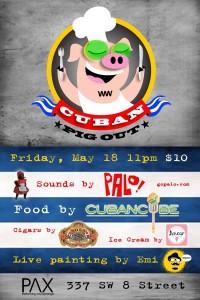 PAX
337 SW 8th Street
(directly under the 95 overpass on your left)
Miami, FL 33130
Facebook Evite (tell them Soul Of Miami sent you).
Free Parking! Tickets are $10.
The CUBAN PIG OUT: a Miami-centric celebration of Cuban Independence Weekend. It's our funky twist on a traditional Guateque Campesino.
* PALO! throws down the Afro-Cuban Funk. We're debuting a new song "El Festin de Santiago".
* The CubanCube Food Truck serves up their amazing Pork Buns, Pork Cigars, Pork Wraps & more Cuban-inspired deliciousness.
* Come at 8PM to try some of Sosa's award-winning cigars: https://www.facebook.com/​events/309543055788999
* LIVE PAINTING by the incredible Emi : https://www.facebook.com/​ecarnero
* Homemade Cuban Ice Cream from Azucar Ice Cream. We like it sweet!
Prizes & other surprises.
PALO! show starts at 11pm. ¡OJO! Ask Carlos for your complimentary Sosa Cigar before 10pm.
For reservations and more info call 305-640-5847