Jacob Jeffries Band "Tell Me Secrets" Album Release Party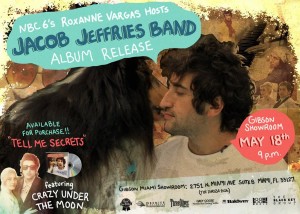 Friday, May 18, 9:00pm
Gibson Guitar Showroom
2751 N. Miami Ave
Miami, FL 33127
We are thrilled to formally announce the long anticipated release of Jacob Jeffries Band's first full length album entitled, Tell Me Secrets!
We are honored to have the lovely Roxanne Vargas from NBC 6 Miami host this special night. As if all of this couldn't be enough, Premier Beverages' Grey Goose and Three Olives, and Pabst Blue Ribbon, will be sponsoring the night with delicious cocktails and drinks.
For those of you who don't know what's been happening with The Black Key Group for the past few months, the buzz has been accumulating towards a very special event taking place this Friday at The Gibson Guitar Showroom in Wynwood. If you haven't yet heard of the piano-driven pop star, Jacob Jeffries Band, we've got the perfect opportunity for you to come out and hear this South Florida talent tickle the ivories.
We are counting down the days for the release of Jacob Jeffries Band's new album entitled, Tell Me Secrets. Jacob and the boys have just concluded their East Coast tour and couldn't be more excited for their homecoming show as it is a celebration of their long awaited full length album. Not only will Jacob be putting on a captivating live performance as he always does, but he will be incorporating a special surprise during his performance that he has never done before. We'd like to give a big thanks to Premier Beverages' Grey Goose and PBR for sponsoring the entire event with generously providing the complimentary cocktails and beverages.