Chalk Ping Pong Lounge Gets Sexxxed Up All Weekend Long for the Exxxotica Expo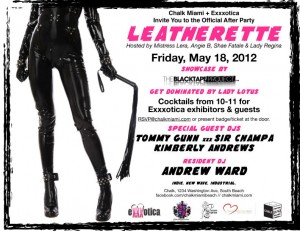 Friday, May 18 – Sunday, May 20, 2012, 10:00 pm
Cocktails from 10:00-11:00 with RSVP
Chalk Ping Pong & Billiards Lounge
1234 Washington Ave
Miami Beach, FL 33139
Friday, all things are fetish with Leatherette; Saturday: Dare to peek with Peep Show and on Sunday: Finish off Exxxotica Expo with Happy Ending and some Ping Porn.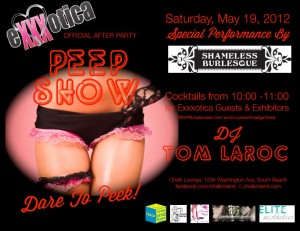 Chalk Ping Pong & Billiards Lounge together with Pleasure Emporium will debut Chalk's first sexy themed weekend as the official after party venue for Exxxotica Expo, the largest event in the USA, dedicated to love & sex.
Friday, May 18, 2012, Chalk goes goth with Leatherette with a special presentation by The Black Tape Project. Feel like getting dominated? Mistress Lotus will show you who is boss!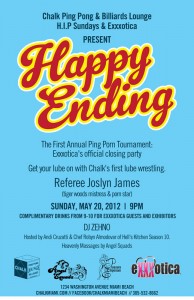 On Saturday May 19, 2012, take a peek inside for Peep Show; a burlesque inspired night where Shameless Burleseque performs at midnight.
It's all about a Happy Ending on Sunday, May 20 as Chalk hosts the first annual Ping Porn event hosted by Porn Star Jocelyn James featuring a slew of sexy players behind the paddle. Seems like Chalk's Happy Ending is also the perfect spot for a lube wrestling and massages by Angel Squads. Exhibitors and guests of Exxxotica will enjoy complimentary drinks all weekend long from 10pm-11pm.