Minervas Circles of Dialogues for Women in Miami.
May 4th. 2012, 6 – 9 pm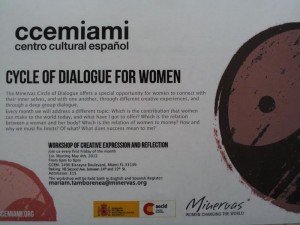 CCE Miami
1490 Biscayne Boulevard
Miami FL 33132
More Information
Parking: NE 2nd Ave , between 14th and 15th St
$ 15.-
Sign up: info@Minervas.org
We are starting a new series of Circles of Dialogues for Women, in Miami. We are very excited because Minervas wants to promote this new experience of having a different type of conversation. We are convinced that people have lost the ability to listen to each other and have profound dialogues. So sponsored by CCE Miami (Centro Cultural Espaniol), we are launching this experience, that will take place every first Friday of the month, from 6-9 pm.
It's open to all women, and I'd like to invite you and also share this information with your friends, helping us promote this initiative that will make a great contribution to have better dialogues in our families and community. If you have someone that lives in Midtown, Miami Beach or Downtown, please send it to them! But don't let location limit you, may be your friends would love to have that very special experience and wouldn't even mind driving.
The session will be held both in English and Spanish.
What is the Feminine Contribution?
To register, send an email to info@minervas.org