Bob Log III, Blowfly, Mr. Free , Pravda v Glaza, and Lone Wolf OMB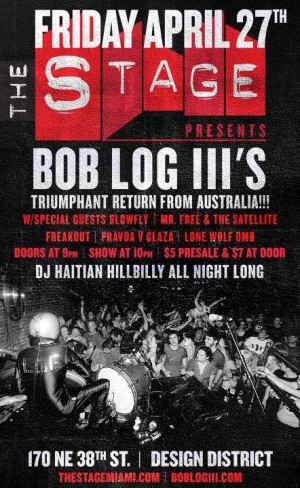 Friday, April 27th // 10:00 p.m.
The Stage!
170 NE 38th Street
Design District
Miami, FL 33137
$5 presale $7 door. 21+. Doors open at 8PM.
Facebook Evite
Bob Log III, Blowfly, Mr. Free , Pravda v Glaza, and Lone Wolf OMB at The Stage!
What an event! What a show! There's hasn't been a better pairing since fries and ketchup!
Bob Log III's first time back to The States since moving to Australia looks to be a show of the ages! His shows are ridiculous and you have to see it to believe it!
The legendary Blowfly will be giving another unforgettable performance. If you know about him, you will be there. If you don't, you have to be there!
Mr. Free & the Satellite Freakout starts the night off with a nutzo show that will whip everyone into a frenzy from the get-go!
And on our new outside stage:
Lone Wolf Omb will be growling and banjo-wielding at' cha! The dude has been climbing the charts and is truly the real deal.
Pravda V Glaza makes their own return as well in full band format. You will love this awesome blend of multi-lingual Jazz-a-billy!