She Stoops To Conquer Live From The National Theatre Of London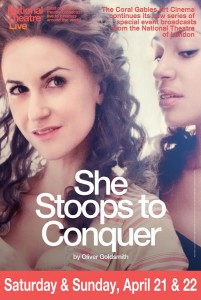 April 21 & 22
Coral Gables Art Cinema
260 Aragon Avenue
Coral Gables, FL 33134
www.gablescinema.com
Special Series Continues At The Gables Cinema
parking on-site in covered garage
Admission: Tickets to these special event programs are now only $16 general admission, $14 for seniors 65-and-over and full-time students (I.D. required), $12 for members of the Cinema, and $10 for children 12-and-under, and are available for purchase in advance online at www.gablescinema.com and in person at the box office during regular screening hours
Gables Art Cinema's next special event program of live recorded performances from the renowned National Theatre of London, the most nominated company for this year's Olivier Awards (the U.K.'s Tony's). The April show is the boisterous revival of Oliver Goldsmith's period-comedy She Stoops To Conquer, which plays on Saturday & Sunday, April 21 & 22 at 1:00 pm. This play is a satire about love, money, and mistaken identity in 18th-century England, and is surprisingly relevant for today's contemporary world.
One of the great, generous-hearted and ingenious comedies of the English language, She Stoops to Conquer offers a celebration of chaos, courtship and the dysfunctional family. Oliver Goldsmith's classic eighteenth century period comedy marries bourgeois etiquette with modern family dysfunction when a wealthy countryman arranges for his daughter's marriage to the son of a well-to-do Londoner. But thanks to a playboy, what follows is a tale of mistaken identity gone awry as misdemeanors multiply, love blossoms, and mayhem ensues. The Daily Telegraph calls it, "Fresh, spirited, blissfully funny" and the Sunday Express says its "A rollicking fantastically funny production." She Stoops To Conquer runs two hours and twenty minutes including a twenty minute intermission.
Tickets to these special event programs are now only $16 general admission, $14 for seniors 65-and-over and full-time students (I.D. required), $12 for members of the Cinema, and $10 for children 12-and-under. They are available for purchase in advance online at www.gablescinema.com, and in person at the box office during regular screening hours.
This unique and groundbreaking program, for which we are the exclusive Miami venue, brings the best of British theater direct from the stage to South Florida. Each performance will be captured live and presented in digital high-definition projection providing audiences an extraordinary close-up view of the world-class productions that take center stage at the National Theatre of London. Funding for the full National Theatre of London series has been generously provided in part by the Coral Gables Community Foundation. The remaining shows in this season's "Live from the National Theatre of London" series will be One Man, Two Guvnors, on May 19 and 20, and Frankenstein, on June 23 and 24, both of which are up for multiple Olivier Awards.
The Coral Gables Art Cinema was named Miami's "Best Art House Cinema" in the "Best of 2011" issue of the New Times weekly. The Cinema is South Florida's state-of-the-art venue for experiencing independent, alternative and international film, offering first-run, seven-day-a-week showcase presentations in both 35mm and true industry-standard theater quality digital projection.