The DWNTWN Miami Concert Series Presents The Venezuelan Sensation Los Amigos Invisibles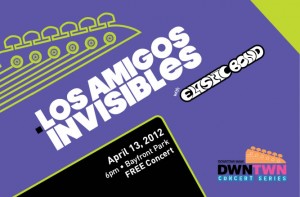 Friday, April 13th @ 6pm
Bayfront Park – Tina Hills Pavilion
301 North Biscayne Boulevard (across from the Bayfront metro mover station)
Downtown Miami
The DWNTWN Miami Concert Series is every second Friday of the month (except March and September). The series features a free concert open to the public at Bayfront Park's Tina Hills Pavilion from October through April, and at the Gusman Center for the Performing Arts from May through August.
Join the Miami Downtown Development Authority Friday, February 10th for the best happy hour in town, for the fifth concert in the DWNTWN Concert Series with two energetic performances by Elastic Bond and Los Amigos Invisibles. Food Trucks will be on-site and food and drinks will be available. Concert-goers are also welcome to bring their own blankets, food and drinks.
Miami favorite Elastic Bond opens the show, bringing their tropical sound with an urban edge.
Los Amigos Invisibles are a unique blend of disco, acid jazz and funk mixed with Latin rhythms makes this band lauded internationally for their explosive, live shows, spanning nearly 60 countries.
Following their Grammy win, 2010 has been an unprecedented year for the band as their international success has led to major festival appearances and sold out shows throughout the United States, Latin America, Europe, Australia and New Zealand. In 2011, the band released Not So Commercial, an EP of outtakes from the Commerical album. This album is nominee for Best Latin Pop, Rock, Or Urban Album Grammys 2012.