Red Carpet Premiere for short film Trigger by Miami native Matt Sinnreich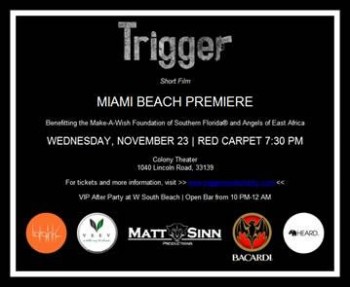 Wednesday, November 23, 2011
Red carpet: 7:30 p.m.
Film start time: 8:00 p.m.
After party: 10:00 p.m.
Colony Theater
1040 Lincoln Road
Miami Beach, FL 33139
Trigger, a short film by South Florida native and Los Angeles-based Matt Sinnreich, will make its Miami Beach debut on Wednesday, November 23, 2011 at 8:00 p.m. at Colony Theater on Lincoln Road. Notably, one hundred percent of proceeds from ticket sales will benefit the Make-A-Wish Foundation of Southern Florida® and Angels of East Africa.
Trigger is a 30-minute short film that has been touted as an emotional and psychological rollercoaster about what it takes for one to actually pull "the trigger" and take another human's life. Immediately captivating the audience, the film opens with a man holding a gun to a drug dealer's head, and then regresses back through the gunman's childhood, exposing the circumstances of how he ended up in the position, and ultimately, how fate has brought everything full-circle.
At the premiere, Sinnreich, who wrote, directed, and produced the film, will announce and discuss his next project, a major motion picture to be filmed in his hometown of Miami Beach. An after party will follow at W South Beach.
Tickets are $55 each and include cocktails by VeeV at the screening as well as access to the after party. For more information about the premiere, tickets, and to view the movie's trailer, please visit: www.triggermoviecharity.com.
The Make-A-Wish Foundation of Southern Florida grants the wishes of children who have life-threatening medical conditions, to enrich the human experience with hope, strength and joy. Covering a 13-county territory of Southern Florida, the chapter's goal is to grant more than 500 wishes in 2011. For more information, contact the Foundation at (888) 773-WISH or log on to www.sfla.wish.org.
Angels of East Africa is a Children's Village for orphans located in South Sudan dedicated to the rescue, restoration, and enablement of children caught in the crossfire of the rebel atrocities in the area. Founded by an unorthodox American pastor from Pennsylvania named Sam Childers, the organization has been operating for a decade, saving the lives of hundreds of children and renewing hope in a region where it had all but vanished.