Rod Pratt and Zhantra Entertainment present Mimzy's Playhouse Premiere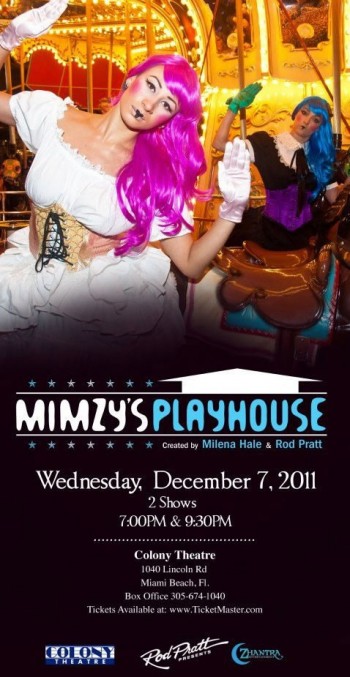 Wednesday, December 7, 2011, 7:00pm & 9:30pm
Colony Theater
1040 Lincoln Road
Miami Beach, Fl 33139
Rod Pratt and Zhantra Entertainment are proud to announce the launch of a new stage show, Mimzy's Playhouse. The show premieres Wednesday, December 7, 2011 at the Historical Colony Theater with two showtimes: 7:00pm and 9:30pm.
Mimzy's Playhouse artistically fuses nightlife and theater together to create a unique stage show that explores the mind and persona of Mimzy; a performer who transverses between traditional dance theater and discotheques. A varietal blend of skits showcasing live vocal and theatrical performances precisely cued to music and brought to life by the accompaniment of modern and ballet dance.
Mature audiences will enjoy discovering Mimzy's Playhouse, a seamless presentation that incorporates a blend of classic storytelling along with the personality of South Beach nightlife, making each performance rare and captivating. From the audience's view of the marquee to the proscenium; the moment they arrive, they enter the world of Mimzy's Playhouse.
Mimzy is played by Milena Hale, who was born in Moscow, Russia. She acquired her dance training at the Bolshoi Theater, the Miami City Ballet and the New World School of Arts where she completed her Bachelor of Fine Arts Degree. She is passionate about her work. Her dance style ranges from theatrical burlesque, to hip hop, to classical and contemporary ballet. She recently danced and choreographed for Mya Harrison's single "Love Is the Answer." Milena created the now famous "Bionic Ballerina" that has performed in major festivals such as Masquerade Motel and Back in Black. Additionally the "Bionic Ballerina has been booked for performances at Liv nightclub and Nikki Beach for world famous DJ's such as Tiesto, Kaskade, and Steve Angello.
Mimzy's Playhouse is co-produced by Zhantra Entertainment which is nationally and internationally known for providing the ultimate in talent. By providing sophisticated, professional trained dancers and performers for major events worldwide, Zhantra Entertainment has appeared on E! Channel as "Sexiest Jobs in Miami" and voted #1 sexiest entertainment company in South Florida.
Visit www.mimzysplayhouse.com to read about the cast & crew and catch constantly updated video footage of the behind the scenes documentary, and photos along with much more great content.
Follow Mimzy's Playhouse on Facebook. Twitter
Make sure you enjoy dinner & a show, join us at Haven Lounge 1237 Lincoln Rd, Miami Beach for Tapas and Small Bites on Wednesday, December 7. Two seatings 6PM & 8PM. Reserve your table at Haven Lounge.