A Cup of Green Holistic Panel at Bayside Rocks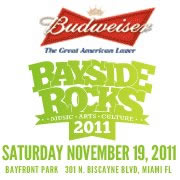 11/19/2011, 12pm-Close
Music*Arts*Culture
Bayfront Park in Downtown Miami
301 N. Biscayne Blvd., Miami, Fl
More Info
A Cup of Green is putting together a panel of health, holistic and green advocates together to speak at this festival. Bringing all types of Miamians together for a great family day out. check it out and plese stop by our booth to register for our drawing!
Bayside Rocks Festival is not merely an event, it is a journey directed by the unifying languages of the Arts. This festival invites the world to be a captive audience to the inherent transcending appeal of works by musical artists embodied by peace, love and unity. In This consciousness evolution we must be ready. As Gandhi so humbly said: "be the change you want to see in the world" so on Saturday November 19th, Bayfront Park Miami will be a day on which all Florida residents dedicate themselves to helping better the environment. It will be a day to get back in touch with the environment that sustains and enriches the lives of everyone who lives, works, visits and plays in the South Florida. Together, we can make a difference. It's Our Earth. Our Responsibility.
Thank you for using Soul Of Miami!