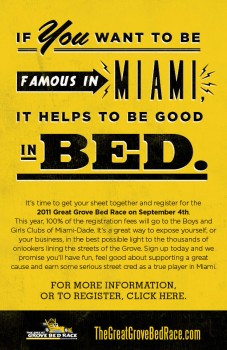 The Great Grove Bed Race
9/4/2011, 11:00 am – 5:00 pm
Commodore and Main in the Grove
www.thegreatgrovebedrace.com
The third annual celebration of bed racing will take place this fall, Labor Day Weekend, Sunday September 4th.
The Great Grove Bed Race is a free community event and fundraiser in Coconut Grove, Florida, each year the race is attended by celebrities and proves that a community can come together, have fun, be unique and raise funds for charity
The six-hour event is scheduled to take place from 11:00 a.m. to 5:00 p.m. and is open to the public. The wildly comedic bed race involves rolling beds down village streets in Coconut Grove with the local South Florida community, individuals, businesses, organizations, and clubs sponsoring the beds.
Teams consist of 5 members, four (4) races and one (1) rider, racing against the clock until the fastest beds in each division are determined. Divisions are Men's, Women's, Co-Ed and Corporate/Over 30. Those finalists go head-to-head in a race for the top position. More important than the speed trophies are the top prizes are awarded for theme, engineering, décor, best overall and crowd favorite through our TEXT your vote telecom sponsor.
Open to the public, the race is organized as a fun community event to improve awareness and economic impact to the Grove Village and raise funds for the Boys and Girls Clubs of Miami-Dade.
Race fee: $100 registration fee per team for virgins (1 bed, five participants) ($50 for returning veteran teams) from June 1, 2011 to July 15, 2011 — $125.00 late registration (including late veteran teams) fee up to the Final entry deadline of 5 pm, Aug. 26, 2011. 100% of the registration fee goes to the Boys & Girls Clubs of Miami-Dade.
Prizes: Prizes will be announced at Bed Race for the various categories (Top Online Fundraiser – Best Engineered Bed – Crowd Favorite (by text votes) – Most Creative Bed – Best Theme – Best Pit Performance – Top Virgin Entry) Cash and gift certificates go to these categories only. Trophies are awarded for the actual race for First, Second and Third Place finishing.
Many activities will take place during the day along with the Bed Race; there is a Parade of Beds, Theme contest (best costumes and cheers would help in winning this), decoration contest, etc.
For more information visit: www.TheGreatGroveBedRace.com
** Registration is OPEN so please get involved ***
11:00 am starts family fun with our Family Pajama Party!
2:00 pm Actual Bed Races Begin