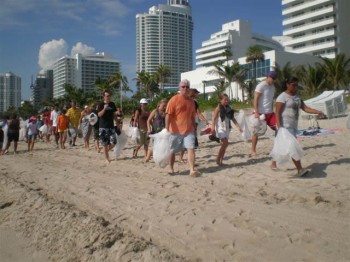 Beach Clean-up Hosted by Commissioner Jerry Libbin
Tuesday July 5th, 2011; 9am to 11am; Registration begins at 8:45 am
10th street and Ocean Drive (Lummus Park)
Office of Commissioner Jerry Libbin, ECOMB, Surfrider Foundation, Boucher Brothers and volunteers
Registration: On-site the day of the event at 10th and Ocean Drive (Lummus Park) Required
Local "Green" Organizations Join Commissioner Libbin in Post-Holiday Beach Clean-up and Rally Support for the Smoke-Free Beach Zones Petition
As the sun rises on South Beach the day after the 4th of July, history shows that the area will be particularly litter-laden with cigarette butts, plastic and glass bottles and other debris.
In an effort to educate, empower and inspire the community, while emphasizing his commitment to the Miami Beach environment, Commissioner Jerry Libbin is putting together a volunteer beach-clean-up and encourages Miami Beach residents to participate, and if so inclined, show their support for his Smoke-Free Beach concept by signing Libbin's petition. The Smoke Free Beach Zones petition is aimed at restricting smoking to designated areas outfitted with ash cans for better clean up and decreased pollution.
The Commissioner's office will provide garbage bags and other materials needed to collect litter, and volunteers will receive a complimentary continental breakfast and beverages. It is recommended that volunteers bring their own reusable bottles of water as well as sunscreen. Finally, all participants are eligible for the "Who Picks Up the Most Litter" contest, competing for gift certificates, including Jet Ski rentals provided by the Boucher Brothers.
Jerry Libbin has spearheaded several major environmental initiatives as a Miami Beach City Commissioner. The Environmental Coalition of Miami and the Beaches (ECOMB) recently honored him with the prestigious Emerald City Award. In addition, he lead a crusade to keep beaches clean with the "NO LITTER, NO BUTTS" campaign and created the Adopt-a-Beach program with 17 adoptees to date.