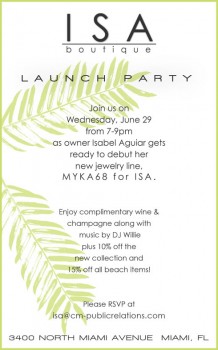 MYKA68 Jewelry for ISA Launch Party
Wednesday, June 29 from 7-9pm
ISA boutique
3400 North Miami Avenue
Midtown | Miami, FL
Please RSVP to isa@cm-publicrelations.com or call 786.558.8027
Join us on Wednesday, June 29 from 7-9pm as owner Isabel Aguiar gets ready to debut her jewelry line, MYKA68 for ISA. The new resort collection consists of gorgeous necklaces, bracelets, earrings & more and are the perfect beach essentials for any summer getaway.
Enjoy wine and champagne along with music by DJ Willie from 7-9pm and an amazing dessert station by Party of 2 Productions. Guests can also enjoy 10% off the new collection, as well as 15% off all beach essentials that evening. The celebration will continue at Bardot for the official after party.
ISA boutique is the latest addition to the Midtown Miami neighborhood bringing a hand picked selection of the season's best fashion items from internationally acclaimed and young emerging designers. Located just steps away from Midtown next to the Wynwood Arts District and the Design District, ISA boutique provides unrivaled personal customer service, and has quickly materialized as a "must-stop" destination for women who desire the latest trends, accessories and beauty products.
Party of 2 Productions believes every event is unique and deserves it's own one-of-a-kind personalized design and service. They offer an array of services, which include event planning and coordination, candy & dessert stations, vendor referrals, and decor rentals including candy jars, vases, serving utensils, etc. For more information, visit partyof2productions.com.